19 years on, eastern DR Congo's active volcano erupts again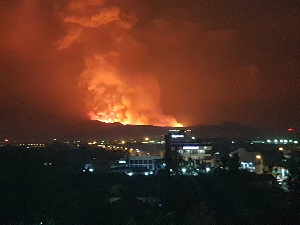 A volcanic eruption has been recorded in eastern Democratic Republic of Congo, DRC, on Mount Nyiragongo, a journalist who extensively covers the country posted on social media.
According to Stanis Bujakera Tsiamala, who shared photos of the incident on Twitter, there had been no official confirmation of the incident.
The photos are taken reportedly from the city of Goma, capital of the North Kivu province and shows a huge fire from a distance – ostensibly the eruption.
Reuters news agency, however, quotes a volcanologist as confirming the eruption but adding that Goma was not in a state of immediate risk. Other reports say the lava has reached one town and was heading towards the other.
A video clip also posted on social media showed people in Goma running in different directions after the eruption. A similar eruption in 2002 wiped away the town of Goma.
Reports indicates that people are in fear of the unknown as a number of people have began to flee the city.
Most news portals in neighbouring Rwanda are also reporting about the development.
According to experts, Mount Nyiragongo is an active stratovolcano with an elevation of 3,470 m in the DRC's famed Virunga Mountains associated with the Albertine Rift.
It is located inside Virunga National Park, in the sprawling Central African country, about 20 km north of the town of Goma and Lake Kivu and just west of the border with Rwanda.
Source: www.ghanaweb.com