Asiedu Nketia drunk palm wine with NDC's pink sheets – Adom-Otchere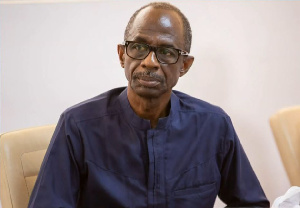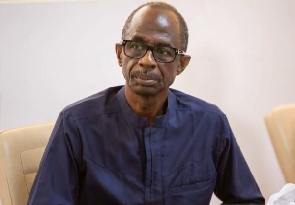 • Paul Adom-Otchere says Asiedu Nketia has used the electoral pink sheets for "palm wine"
• He stated that the NDC scribe has failed to account to NDC voters the number of votes John Dramani Mahama had in the 2020 elections
• Adom-Otchere indicated he has no problem Asiedu Nketia referring to him as a lotto forecaster
Paul Adom-Otchere, host of Good Evening Ghana on Metro TV has renewed his attack on Johnson Asiedu Nketia, the General Secretary of the opposition National Democratic Congress (NDC).
According to him, anytime the NDC General Secretary is reminded that he failed during the election petition to account for the over six million votes President John Dramani Mahama secured on December 7, he is not able to answer.
He said Asiedu Nketia went to court to do palm wine talk, failing his party and every voter who voted for the party and its candidate.
"He is nervous about the disgraceful behaviour he turned out in the court for the NDC in violation of Article 27 of the NDC Constitution," Paul Adom-Otchere said during the editorial segment of his show on Thursday, May 20, 2021.
Johnson Asiedu Nketia in an earlier interview on Angel FM explained the reason why he ignored Adom-Otchere after he said he [Asiedu Nketia] had gone to court to do "palm wine talk".
This was after Asiedu Nketia had compared the editorial analysis of Paul Adom-Otchere to that of a "village lotto forecaster" doing permutation and combination of lotto numbers.
"I said Adom-Otchere's analysis has no scientific basis. It is as if he has spoken to leaders of the NDC and they have given him such analogies but he never spoke to anybody in the NDC. This is because in lotto forecasting, 'sure banker' today turns to machine numbers the following day, this is what Paul Adom-Otchere was doing on his show.
"He took his attacks to Sam Jonah KBE after he said there is some form of culture of silence in the country. Adom-Otchere took Sam Jonah [on] and it confirms what Sam Jonah had told the Rotary Club in Accra," Asiedu Nketia told Kofi Adomah on Angel FM.
Reacting to this, Paul Adom-Otchere explained that he had been advised by some influential persons in the society to discontinue his editorial on Sam Jonah KBE where he was reviewing his Rotary Club statement.
"There is a third part of the Sam Jonah conversation which people have asked me not to express because it is damning to Sam Jonah and I'll tell you that for free. I have shown people the evidence, it's in the book AA Afrifa, people have told me that I should leave it so I have left it," he said.
Adom-Otchere could not comprehend why Asiedu Nketia was quick to bring in Sam Jonah's issue into his accountability to NDC electorates on what was the actual votes of John Dramani Mahama during election 2020.
"He continues to emphasize on lotto forecasting which is ok…there is pressure on Asiedu Nketia and he is leading the NDC astray because he does not know how to answer the question, where are the 2020 compiled results of the NDC. Asiedu Nketia cannot answer that question and if he cannot answer that question, then he has failed in his responsibility," he said.
He noted that "Asiedu Nketia would have run from the Angel FM studio if the election results were asked. He's afraid that people will confront him with that."
"I can be a lotto forecaster, no problem, but I am saying that Johnson Asiedu Nketia has a role to play in our democracy. He has failed and he is a palm wine talker…the taxpayer paid for the pink sheets that were given to him [Asiedu Nketia], 38,000 pollen stations…account for the results of John Dramani Mahama so that the transparency of the election will be revealed. We paid so that the Electoral Commission can give you pink sheets…he has taken it; he doesn't have results. What did he do with it, yes, he drunk palm wine with it," Adom-Otchere stressed.
Source: www.ghanaweb.com