Kenya rasta society in court over criminalization of weed smoking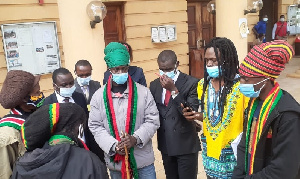 • The Rasta Society of Kenya is in court over criminalization of weed smoking
• RSK wants court to declare smoking a means of connecting with their maker
• A court in 2019 said Rastafarianism was a religion
Adherents of the Rastafarian faith in Kenya have gone to court over smoking of marijuana.
According to local media reports, the Rastafari Society of Kenya went to court on Monday, May 17, seeking authorisation to smoke marijuana as a process of connecting with their maker.
They claim the police continue to harass and imprison their members for privately growing and using cannabis for spiritual purposes and for the sole purpose of connecting with the 'Almighty Creator,' the reports add.
Cannabis consumption is illegal under current legislation, with offenders facing up to eight years of imprisonment.
There is a strong Rastafarian society in the East African country and they have in times past gone to court to assert their rights.
A landmark case involving adherents in September 2019 resulted in a High Court ruling that Rastafarianism was a religion that needed to be accorded the necessary legal protection.
The ruling involving a girl denied admission because of her dreadlocks also ordered schools not to expel students who keep dreadlocks.
While giving his final verdict in a suit, Justice Enoch Chacha Mwita said that the school administration's action denied the girl her right to religion and education.
The judge also pointed out that the Constitution does not define what religion is but the dictionary does.
"This is the first ever case in this country where a child dons rasta braids because of her religious beliefs, Rastafarianism is a religion which should also be accorded protection," said Justice Mwita.
Source: www.ghanaweb.com