I stopped Delta Force from doing galamsey – Removed Ashanti regn. Security boss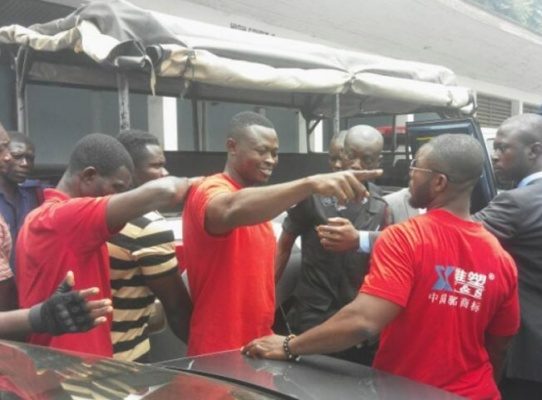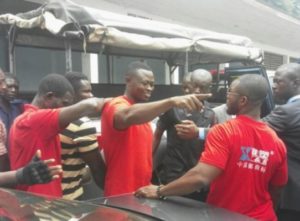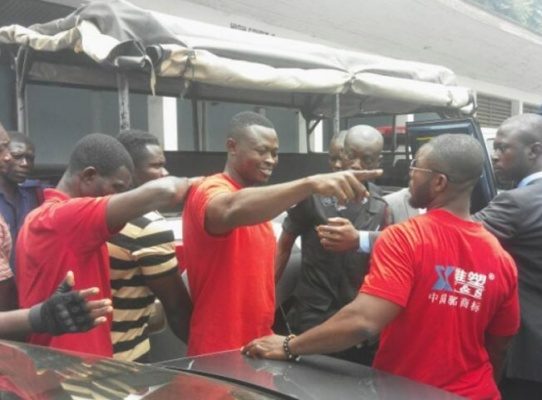 The Ashanti regional security coordinator who was recently attacked in his office by members of the vigilante group Delta Force has said the group targetted him because he prevented them from undertaking illegal mining.
According to DCOP Ayensu Opare Addo, he has often had brushes with members of the group who believe he is an impediment between them and their plans to mine illegally.
Last week leader of Delta Force Mohammed Seidu led his gang to invade the office of retired DCOP  Opare Addo in the effort to remove him. The gang claimed to be officials of the National Security and were acting on the instructions of the newly appointed national security coordinator.
Speaking to Francis Abban on Morning Starr Monday, DCOP Opare said he was shocked the individuals who invaded his office and handcuffed him were let to go without arrest after the matter was reported to the police.
"I had been informed that my appointment had been terminated on the 9th of April. I was waiting for the person coming to take over so I handover to him so I never left the office. I was packing my things in the office when 7 guys forcefully entered my office and said they had been asked to bring me to Accra. I told them I will not go and immediately they handcuffed me. Eventually, the Ashanti regional security commander came in and I was freed so I reported the matter to the police.
"I don't know what action they're going to take against them but I've reported the case to the police I was surprised that the guys came to my office and even handcuffed me but they were left to go without any arrest," he fumed.
" These Delta Force guys, they have been wanting to do galamsey and I have always resisted it. Sometime ago, so they have never liked me but I'm not intimidated at all," he said.
Source: Ghana/Starrfm.com.gh
Good news for John Mahama camp as aide Joyce Bawa Mogtari welcomes triplets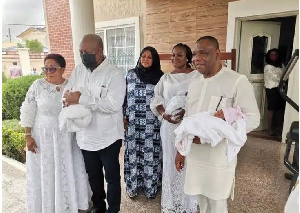 Special aide to the former President of Ghana John Mahama, Joyce Bawa Mogtari has given birth to triplets.
In photos shared on social media, the former Deputy Transport Minister is seen in the company of her husband, the former President and former first lady Lordina Mahama holding the children and dressed in all white signifying how blessed they are to have the children.
This will mean Joyce Bawa Mogtari currently has four children because she already has a son.
Joyce Bawa Mogtari is a Lawyer by profession and a leading member of the opposition National Democratic Congress (NDC).
She was appointed Deputy Minister of Transport in 2013 under the Mahama's administration and held the position until 2017 when Akufo-Addo's administration took over government after ousting the Mahama's administration in the 2016 elections.
She also served as Mr. Mahama's Spokesperson in the 2016 elections and was made the former president's Special Aide after the elections.
Source: mynewsgh.com
Akufo-Addo to launch Bawumia's campaign in North East?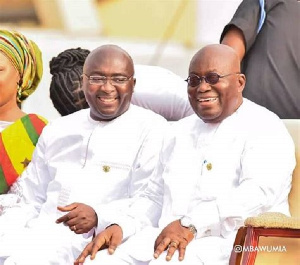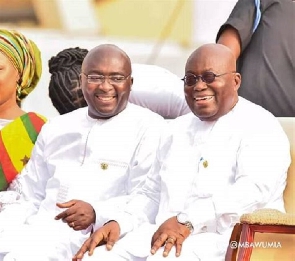 President Nana Akufo-Addo is about to do something really usual in his regional tour.
For the first time, the President and his Vice, Dr Mahamudu Bawumia, are embarking on his regional tour.
Never before has Mr Akufo-Addo nor any President of Ghana embarked on a regional tour with a Vice President.
From 22nd to 23rd June, Mr Akufo-Addo and Bawumia are to tour the North East Region.
Reliable sources say the President is aiming to use such Regional tours to campaign for Bawumia to be elected as Presidential candidate of the New Patriotic Party (NPP) for 2024.
Sources say Dr Bawumia's popularity has grossly faded, especially after he recently sought to unduly use the funeral of the late Sir John to run a campaign.
According to sources, the President is highly likely to appeal to chiefs in the North East Region to get their people to vote for Bawumia.
In the North East where Bawumia hails, they are to visit the Nayiri.
They are also to call on the chief of Walewale. Walewale is Bawumia's hometown.
Sources say it is becoming increasingly clear that Bawumia cannot win the NPP flagbearer race but the President is desperately trying to do everything possible to ensure that he wins.
According to sources, the President may take Bawumia on other regional tours that he (Akufo-Addo) is supposed to attend alone.
Both of them are to abandon Jubilee House, the seat of Government to campaign for Bawumia.
Interestingly, the President is going to campaign for his Vice at a time some of his appointees with Presidential ambitions are barred from campaigning.
The leadership of is also seeking to bar other Presidential aspirants from campaigning.
Source: Tarlue Melvin, Contributor