Politician arrested at airport while smuggling cocaine in slippers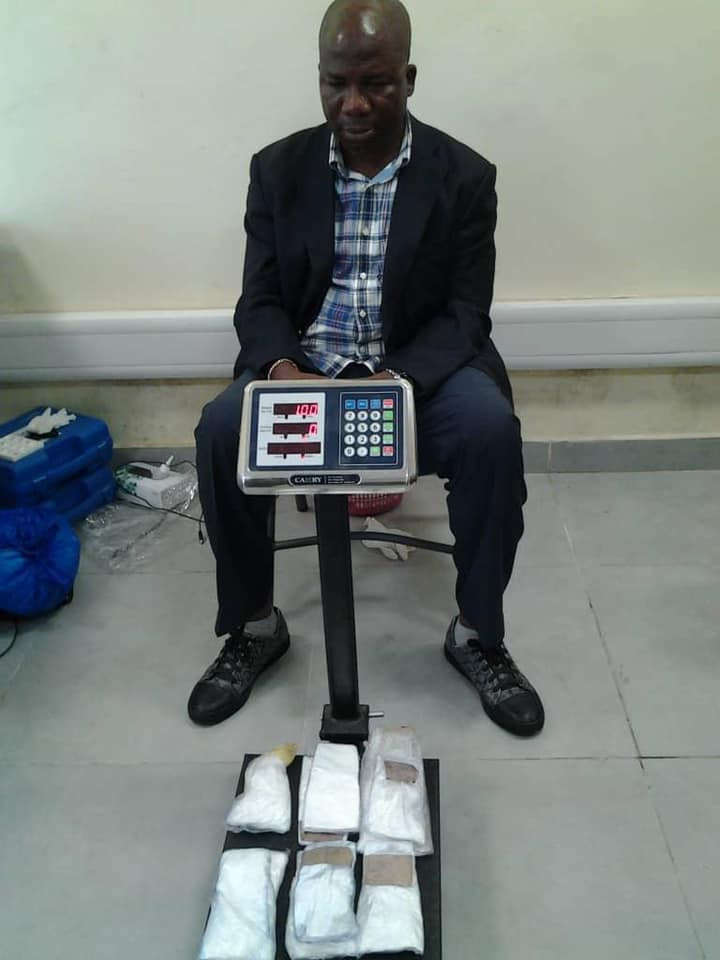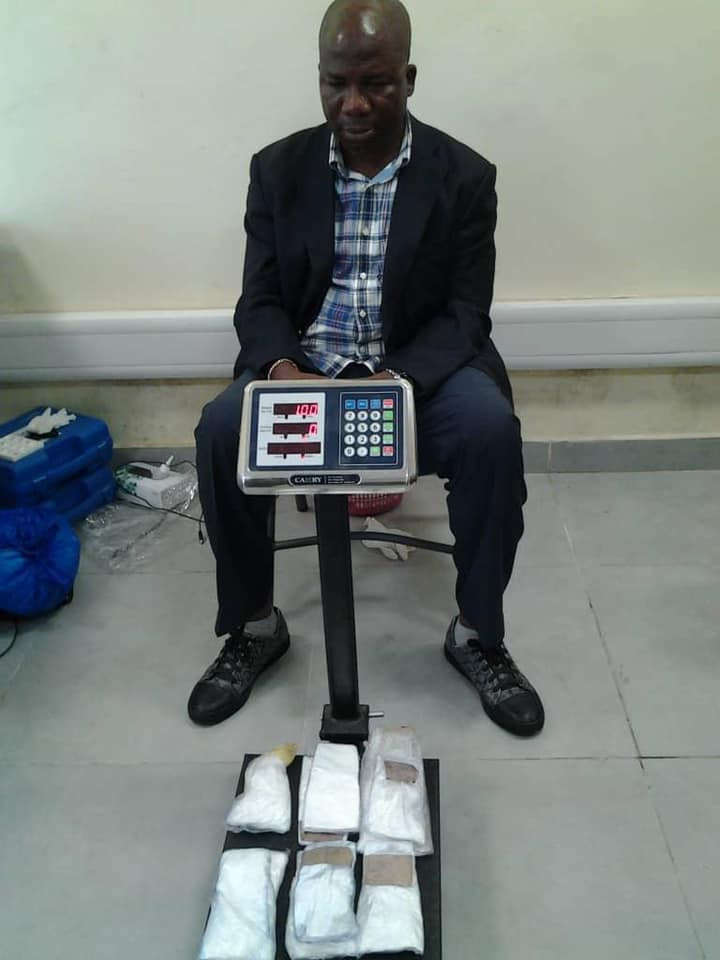 Former Vice Chairman of Lagos Island East Local Council Development Area (LCDA), Sakiru Asekun, has been arrested while allegedly attempting to smuggle cocaine concealed in slippers.
Mr Asekun was arrested by operatives of the National Drug Law Enforcement Agency (NDLEA) at Murtala Muhammed International Airport on his way to London, United Kingdom.
At the point of his arrest, he was caught with a kilogram of cocaine concealed in five pairs of palm slippers packed inside his suitcase.
According to a statement on Wednesday, Femi Babafemi, NDLEA spokesperson, said the suspect has been on the agency's wanted list since December 2020 "in connection with a case involving one Azeez Adeniyi Ibrahim who was arrested with 6.45kg of cocaine."
Although he claims to be an international businessman who deals in automobiles, the investigation is yet to confirm that to be the source of his acquired wealth.
In the course of tracking him, the sum of N131million was seized from his account, and another N14 million also blocked in the account of one of his traffickers, Azeez Adeniyi Ibrahim, bringing the total sum so far recovered from him to N145 million."
During preliminary investigation, it was gathered that the supposed London-based baron is a seasoned politician.
He was at different times between 2004 and 2014 the vice chairman of Lagos Island East LCDA. He had also contested and lost elections for House of Representatives in 2007 and Lagos state house of assembly in 2015.
VIDEO: Boko Haram gets new leader following death of Abubakar Shekau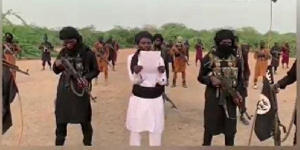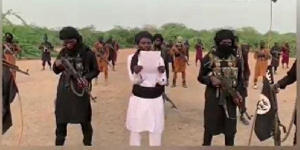 Reports have stated that the Boko Haram has installed a new commander following the death of its leader, Abubakar Shekau.
According to the widely acclaimed reports from ISWAP, a rival jihadist group of Boko Haram, Abubakar Shekau blew himself up to avoid been captured by the group.
In a video released, Boko Haram confirmed the death of its leader Shekau and announced a new commander in the person of Bakura Modu known as Sahaba.
Modu as he read the statement, called on his faction's commanders to remain loyal despite the loss of their leader.
The video was said to have been provided to AFP by a source close to Boko Haram.
The Nigerian army has yet to comment on the development opting to remain silent when initial reports emerged of Shekau's demise in April.
Watch the video below:
Source: www.mynigeria.com
Woman jailed 17 years for beating toddler to death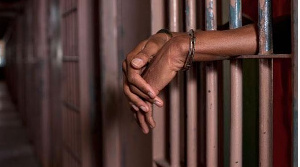 • The convict beat the baby up with a peach tree stick
• The court handed her 17 years in jail for the offence
• She was taking care of the baby as its mother worked in Cape Town
A 49-year-old South African woman has been jailed 17 years for murder of a 19-months-old baby, the National Prosecution Authority, NPA, reported on May 27.
The NPA said the High Court in Eastern Cape Division sentenced Ncedeni Qwabe for physically assualting the baby with a peach tree stick leading to its death.
The statement was issued by Anelisa Ngcakani, NPA Regional spokesperson for the Eastern Cape Division.
NPA Statement: WOMAN GETS 17 YEARS FOR BEATING TODDLER TO DEATH
The High Court of South Africa: Eastern Cape Division, Bhisho sentenced a 49-year-old woman, Ncedeni Qwabe, to 17 years imprisonment for beating to death a 19-months-old baby girl, Qhamokuhle Ndziba.
Qwabe had a love affair with the child's uncle, Sityebi Ndziba (47) and the couple was taking care of the child while her mother worked in Cape Town.
On 27 July 2020 at their home in Keiskammahoek, Qwabe assaulted the baby with a peach tree stick because the child had messed the floor with water while she was being bathed.
Qwabe initially said she hit the child lightly with a cloth. However, during cross-examination by the prosecutor, Advocate Louis Sinclair, she revealed that she beat the child up with a peach tree stick.
Qhamokuhle died during the evening due to internal injuries and blood loss.
Source: www.ghanaweb.com
Nigerian drug kingpin offered $24,500 bribe to evade arrest at Lagos airport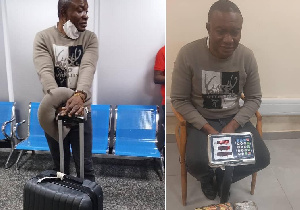 • The suspect is a Brazil-based Nigerian drug kingpin, Ejiofor Felix Enwereaku
• He was arrested at the Lagos airport by operatives of the Nigeria Drug Law Enforcement Agency, NDLEA
• He failed to compromise NDLEA officials with a bribe of $24,500
A Brazil-based Nigerian drug kingpin, Ejiofor Felix Enwereaku was arrested by operatives of the National Drug Law Enforcement Agency, NDLEA at the Muritala Muhammed International Airport (MMIA) Ikeja, Lagos on Friday, May 14, 2021.
Along with his arrest, the state agency intercepted 36 blocks of cocaine, weighing 27.95 kilograms with a street value of over N8 billion.
Mr. Enwereaku was alleged to lead a syndicate that imported 27.95kg of cocaine using their organized criminal gang, which specializes in tagging/planting drugs in innocent travelers' luggage.
Based on intelligence, narcotic agents at the MMIA had on May 8, 2021, intercepted a bag that arrived at the Lagos airport from GRU, Brazil via Addis Ababa, Ethiopia on the Ethiopian Airline with baggage tag No- ET331199 but was disclaimed by an arriving passenger on the flight, Vanguard.ng reports.
The disclaimed bag was promptly secured by NDLEA operatives for investigation.
On May 9, 2021, a man came to the airport to inquire on how to get the disclaimed bag released. He was promptly arrested for investigation.
The disclaimed bag was opened in the presence of the arriving passenger and the man, who came to negotiate the release of the disputed bag. When it was opened, it was found that the bag contained 36 blocks of cocaine, weighing 27.95kg, according to Vanguard.ng.
A follow-up sting operation was carried out, which led to the arrest of Ejiofor Felix Enwereaku, the prime suspect, on May 14 upon his arrival from Addis Ababa on board Ethiopian Airline.
During preliminary interrogation after his arrest, he confessed to having been contracted by his Ethiopian associate, who is a notorious drug baron, to claim and push out the consignment in Lagos, Nigeria.
He further admitted to having paid a $24,500 bribe in three tranches to compromise NDLEA officers.
The first was $10,000 delivered through his representative in Lagos and another $10, 000 via his FirstBank account while the third tranche of $4,500 was paid at the point of his arrest.
His group is suspected to be responsible for recruiting traffickers to move illicit drugs to various destinations using Nigeria as their transit location and also planting drugs in the luggage of innocent travelers.
Impressed by the outcome of the intelligence-led operational strategies that took weeks of painstaking efforts and closely monitored by him, Chairman/Chief Executive of NDLEA, Brig. General Mohamed Marwa (retd) commended the Commander, MMIA Command of the agency, Ahmadu Garba, his officers and men for their diligence and resilience in following up every lead in the case until the kingpin was successfully entrapped and arrested.
Source: mynigeria.com