WATCH: 'No Juju in Black Stars camp' – Charles Akonnor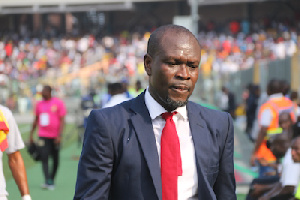 Black Stars Coach, Charles Akonnor has refuted claims of juju (voodoo) wreaking havoc within his team.
The claims of juju disrupting team building and harmony while hindering success, have been age-long.
However, such claims haven't gone away during the tenure of Charles Akonnor.
It is alleged that some players use 'juju' against each other while in camp, just to get an advantage over the other in the pecking order.
This, it is believed has scared some players to refuse national team invites to avoid being victims of these facinorous practices.
Speaking at a press conference to announce his squad for upcoming friendlies against Morocco and Ivory Coast, Charles Akonnor denied witnessing such happenings in camp.
"No, not at all. I engage the player's lot of times through zoom, and none of them have made mention of something like this," he said.
"I have no idea about this (juju) in the camp," Akonnor insisted.
Ghana is scheduled to play against Morocco on Tuesday, June 8 in Rabat before taking on Ivory Coast on Saturday, June 12, 2021, at the Cape Coast stadium.
Source: footballmadeinghana.com
Two Karela United fans arrested for assaulting Medeama players, five suspects on the run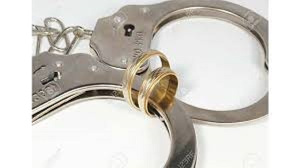 Two Karela United fans have been arrested for attacking Medeama players and smashing the windows of the team's bus following a feisty FA Cup match at Aiyinase on Sunday while five more suspects remain on the run.
Two men – David Yankey nicknamed Akpale, 32, and Jonathan Essien, 33, have been arrested by the Tarkwa Police following a swoop on Sunday night.
The two suspects will be sent to the Sekondi Regional Police Headquarters for further action on Monday.
Seven suspects are believed to have instigated and attacked players of the visiting team and damaged the team's bus following Karela United's 2-1 defeat to Medeama in the FA Cup Round of 32.
GHANAsoccernet.com can report that five more suspects – who are based in Tarkwa's Akoon are on the run for engaging in the dastardly act at the Crossby Awuah Park.
The Police are hot on the heels of five other suspects whose names are given as Isaac Arthur, Otwu, Palamo, Sunset and Kofi.
The Crossby Awuah park has been closed down indefinitely following the savage attacks requiring Medeama midfielder Eric Kwakwa to need stitches and team bus windows smashed.
The Pride and Passion has started an investigation into the unfortunate incident which has overshadowed the side's FA Cup match at Aiyinase.
The match was overshadowed by massive crowd violence which has rocked the famous Cup competition.
Prince Opoku Agyemang opened the scoring in the first half, capitalizing on a defensive howler to give the visitors the lead.
Ebenezer Ackahbi increased the tally with a superb finish before Diawisie Taylor pulled one back for the visitors.
However, it's the massive crowd trouble that has gained inches in the local media with a reported irate siege by the home fans.
Referee Philip Arthur-Forson was forced to delay the match on two occasions following the marauding attacks from the home fans.
Medeama midfielder Eric Kwakwa was hit with a stone as he made his way to the tunnel after the first half.
Military men detailed at the venue are had a torrid time controlling the home supporters in a highly volatile atmosphere at Aiyinase.
The match was held up several times with fans throwing missiles onto the pitch.
The military was forced onto the pitch to protect life and property in what has been an extraordinary scene at Aiyinase.
Some journalists were denied entry into the stadium with the game delayed closed to 30 minutes into the second half.
Source: ghanasoccernet.com
Liverpool sign Abdul Fatawu Issahaku as club president confirms deal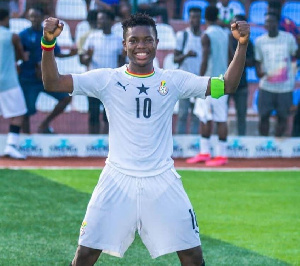 Liverpool has reportedly completed the signing of Ghanian wonderkid Abdul Fatawu Issahaku, according to his current club's chairman.
Issahaku has become a rising star for Steadfast FC in the second tier of Ghanian football and for his national team's youth sides over recent seasons.
In fact, he has impressed so much that a number of clubs were believed to be sizing up moves for the young attacking midfielder.
Bundesliga side Bayer Leverkusen were the side thought to be closest to completing a deal for the teenager, but it now appears that Jurgen Klopp's Reds have won the race to sign him.
The 17-year-old has scored eight goals in 13 games for Steadfast, helping them to finish fourth in Zone One of the Division One League.
His performances earned him a call-up to Ghana Under 17s team, before getting promoted to the Under 20s for the U20 Africa Cup of Nations, held earlier this year.
Issahaku starred at the tournament, scoring two goals and notching one assist in six games as the Black Stars won their first AFCON title for 11 years.
He started every match on Ghana's road to the trophy, with his performances seeing him named the tournament's best player.
His displays appear to have attracted the eye of Liverpool, with Steadfast president and owner Haruna Iddrisu claiming a deal has been completed.
"When I started negotiation for Abdul Issahaku Fatawu's move to abroad, it started from more than 1 million euros and this means if we get corporate sponsorships, we can do better," he told Football Ghana.
"We need to do more to make our football attractive and by doing that we get more hands-on board to sponsor our football because on weekends.
"Football is the business everywhere so I am pleading to the corporate world. I am doing Steadfast for the love of football and for the people of my home town," he added.
Football Ghana also reports that Leverkusen had agreed on a deal, but Liverpool moved in when it fell through at the final stage.
They state that the Reds have paid a fee in the region of £1.5million for the 17-year-old, who is said to have signed a five-year deal at Anfield.
But despite apparently signing the highly-rated star, Reds fans will not get an immediate glimpse of their side's new signing.
That is because Klopp's men have reportedly sent him straight out on loan to Portuguese top-flight side Sporting Lisbon.
Work permit concerns have also left some fearing that they may never get to see Issahaku in a Liverpool shirt.
If the difficulties over his permit do arise, Issahku's move could go the way of Taiwo Awoniyi, who is still yet to make an appearance for the Reds since signing from Nigerian side Imperial Academy in 2015.
Source: happyghana.com
Gory pictures as hooligans parading as Karela United supporters attack Medeama bus after defeat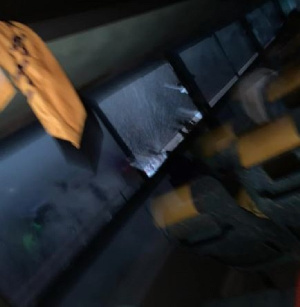 • The fans attacked the bus and injured midfielder Eric Kwakwa
• The Ghana Football Association has placed an indefinite ban on the CAM Park
• Some followers of the game are calling for prosecution of the fans
Fan violence continues to be part of Ghana's football with Medeama Sporting Club becoming the latest club to suffer such unfortunate acts.
The Tarkwa-based club on Sunday, June 20, 2021, pulled a 2-1 victory over Karela United in round 32 of the MTN FA Cup.
The game as per reports went on smoothly but its aftermath was chaotic with a member of Medeama's playing team now battling for his life.
Angry Karela United fans threw missiles into the Medeama bus on its way out of the Crosby Awuah Memorial Park with midfielder Eric Kwakwa sustaining severe injuries.
It has been reported the objects damaged Medeama's bus and hit the head of Kwakwa who is now receiving treatment.
The attack has caught people in the football fraternity with surprise as fans of both Nzema clubs pledged to be of good behaviour ahead of the game.
In a quick response to the incident, the Ghana Football Association has placed an indefinite ban on the Crosby Awuah Memorial Park which is the home of Karela United.
A statement read: "This decision was taken following assaults on players and officials at Aiyinase resulting in injuries and damage to property and unsporting behaviour by the home supporters in the MTN FA Cup Round of 32 tie between Karela United FC and Medeama SC on Sunday, June 20, 2021.
"The Executive Council invoked Articles 14(2) and 14(3) of the Ghana Premier League Regulations which empowers them to close down any league centre/venue where the safety of clubs, match officials and/or spectators cannot be guaranteed.
"The Ghana FA prosecutors have been tasked to proffer the appropriate charges for the Disciplinary Committee to sit on this matter expeditiously."
Meanwhile, some followers of the game are calling on the Ghana Police Service to arrest and prosecute the hoodlums who carried out the act.
Jerome Otchere, the respected editor of Kotoko Express in a social media post said that until people are jailed for the attacks, nothing will change in Ghana football.
"How do we have fans do this to innocent footballers and still go home FREE? Our football suffers the mortal damage as match venues are sadly turned into violent, unsafe territories with Police inaction. How do we bring back the love in the face of this?" he tweeted.
Source: www.ghanaweb.com