SEC pays GH¢1.7 billion of investors locked up cash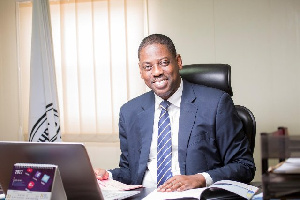 The Securities and Exchange Commission (SEC) has paid a total of GH¢1.76 billion (GH¢1,762,767,250.32) to investors who applied for both full and partial bailout programmes as of March 31, 2021.
A total of 59,180 investors received the amount.
It comprises GH¢994.5 million (GH¢994,502,710.52) paid to 52,264 investors under the partial bailout programme and GH¢768.2 million (GH¢768,264,539.80) paid to 6,916 investors under the full bailout programme.
Director-General of SEC, Rev. Daniel Ogbarmey Tetteh who announced this, assured investors not to panic and that they should not resort to middlemen or facilitators to secure payout of the bailout.
Full bailout
Under the full bailout programme, he noted that GH¢768.26 million has been paid as of March 31, 2021, to investors of the 47 defunct FMCs.
This, he said, represents a total of 83% of claimants paid out of total sign-ups done and 78% of the total value paid of examined claims.
According to him, 6,349 individuals were paid GH¢409.29million, while 562 Corporates and Institutions received GH¢358.68million.
He further noted that the variance of outstanding payments was explained by some clients opting not to withdraw claims.
The Director-General of SEC mentioned that the number of claimants who have been fully settled under this programme amounts to 6,916 as of 31 March 2021.
So far, 51,143 Individuals were paid an amount of GH¢959,57million, while 1,121 Corporates and Institutions were paid an amount of GH¢34.93million.
Partial bailout
On the partial bailout programme, he stated that a total of 64,685 claimants have signed up for the programme out of 89,233 claimants.
"This represents 72% of total claimants signed up under the partial bailout programme.
He noted that the actual payments made under the partial bailout programme as of March 31, 2021, amounts to GH¢995 million to claimants.
This, he further said, represents 81 per cent of total claimants and 83 per cent of the total corresponding partial value.
Claims above GH¢50,000
"For claimants with validated claims in excess of GH¢50,000 thresholds, be assured that the full bailout package would be triggered when the liquidation orders are granted.
Rev Ogbarmey expressed appreciation to the government for the provision of GH¢5.5 billion in the 2021 National Budget Statement, which was recently approved by Parliament to complete the Asset Management Industry Cleanup Exercise.
The Director-General said the provision further demonstrated government's profound commitment to strengthening the securities market in realising its potential as an essential driver for economic growth and development.
He appealed to all affected clients to patiently follow through with all relevant processes to redeem their claims and to rely only on information provided by the SEC and the Official Liquidator.
The courts had granted 37 liquidation orders to the Official Liquidator (The Registrar-General) as at March 31, 2021, out of the 47 FMCs with claims from investors after the revocation.
Virtual Creditor and Class meetings were held by the Official Liquidator for clients of 34 of these companies.
The remaining 10 Companies have their liquidation petitions currently pending before the High Court for hearing.
As at March 31, 2021, out of a total of 100,898 claims received against 47 Companies valued at GH¢11.70 billion, a total of 100,700 claims valued at GH¢8.314 billion have so far been validated.
This means that an estimated 99.8% of the total claims filed were validated with almost 30% found to be unwarranted.
Claimants who disagree with validated amounts are engaging the agent of the SEC for further examination.
Source: thefinderonline.com
Takoradi Gold sues Minerals Commission for unlawful assignment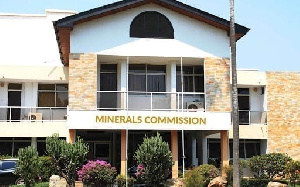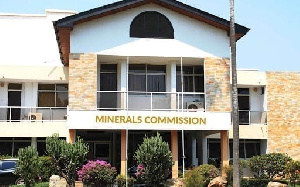 Ghanaian owned licensed large-scale mining operator Takoradi Gold Ghana Limited is suing the regulator of the country's mining industry, the Minerals Commission, for what it claims are attempts to divert two of its mining concessions to another company.
Takoradi Gold contends that the moves by the Commission to hand over a land that it has vested interest in without any reference to it is wrongful and unlawful.
According to the writ filed at the Tarkwa High Court, Takoradi Gold Ghana Limited avers that two mining concessions – CV597 and CV598 – are mining concessions originally granted by the colonial government to Paa Grant but the residue of the terms of those certificates of validity became assigned to one George Blay Kwofie by the administrators of the Estate of Paa Grant.
TGGL explained subsequently that George Blay Kwofie entered into a Joint Venture Agreement with them in respect of the said CV597 and CV 598 and the government of Ghana has since 1985 approved not only the said agreement but also the transfer of the mineral rights in those concessions to the Plaintiff.  The gold-mining company contends that as a result of that approval, the government by the then Sector Minister/ Secretary executed an agreement with its predecessor-in-title Goldex Prospecting N. Limited and granted her prospecting license No. 8147/86 in respect of both CV597 and 598
Takoradi Gold Ghana Limited says having acquired vested mining right in both CV597 and CV598, they have since discharged all their responsibilities to the government and to the knowledge of the 1st Defendant (Minerals Commission) invested over $3 million in carrying out prospecting activities on the subject Certificates of Validity (CV597 and 598).
The plaintiff contends that it has complied and/or continue to comply with the relevant provisions in the Minerals and Mining Act 2006 (Act 703) in so far as her prospecting activities on the 2 CVs are concerned, and that they have not at all surrendered their interest in the CVs to the 1st Defendant nor has the 1st Defendant written to revoke or cancel Plaintiff's mineral right in those CVs.
TGGL stated in the writ that it became aware of the dubious moves by the Minerals Commission to divert its concessions to another company when it came across a publication of notice by the Commission in 2019, adding that that publication has the potency of infringing on the company's mineral rights.
"The Plaintiff states that somewhere in February 2019, she stumbled upon a Publication of Notice made by the 1st Defendant that, that had the potency of infringing on her mineral rights in the 2 CVs and she duly by a letter dated 22/02/2019 addressed to the 1st Defendant and by that letter raised her protests and or opposition to any intention of the 1st Defendant to make a grant of any mineral right or interest in CV597 and CV598 to any other body or body of persons," the writ stated.
Takoradi Gold Ghana Limited (Plaintiff) stated that the Minerals Commission has failed to respond to the company's queries concerning the said action.
"Plaintiff avers that when 1st Defendant failed and or refused to respond to her concerns in the letter of 22/02/2019, she caused an official search to be conducted on the CV's 597 and 598 at the 1st Defendant's office.
"By the Minerals Cadastre Map dated 24/05/2021 as furnished Plaintiff by the 1st Defendant, the CV's 597 and 598 (subject of this suit) have been shown as having been proposed by the 1st Defendant to be granted to the 2nd Defendant," the writ indicated.
TGGL is praying the High Court to annul any possible arrangement and/or agreement between the Minerals Commission (1st respondent) and Mining and Construction Limited (2nd respondent).
"An Order declaring as null and void any agreement purportedly entered into between the 1st and 2nd Defendants in respect of Plaintiff's CV's 957 and 958 or any portion thereof," the writ stated.
Below are the full claims being sought by Takoradi Gold Ghana Limited against the Minerals Commission and the Mining and Construction Limited:
Declaration that Plaintiff has subsisting right to prospect for and prove for gold in INSAMANKAW —SIMPA Concessions commonly referred to as CV597 and CV598 situate and lying at Kutukrom in the Nzema East District Assembly covering an area of 14.56 Sq. kilometres and bounded by the mining lease area of the Plaintiff, the Nzema East Small Scale Mining Licence area and the Prestea Huni-Va11ey restricted area.
An Order declaring as null and void any agreement purportedly entered into between the 1st and 2nd Defendants in respect of Plaintiff's CV's 957 and 958 or any portion thereof.
An Order of injunction restraining the Defendants and or their agents, workmen, assigns. Privies, and successors-in-title etc. from interfering with Plaintiffs quiet enjoyment of her said licenced prospecting area being CV597 and CV 598 at Kutukrom.
iv. An Order of perpetual injunction restraining the 1st Defendant from granting to, allocating to, demarcating for, releasing to and or any dealings in respect of the said CV597 and CV598 with the 2nd Defendant and or any other body or body of persons for the purpose of prospecting for gold or any other mineral right from within the said Concession.
V. Any other relief as may be just.
Bank of Ghana lowers policy rate by 100 basis points to 13.5%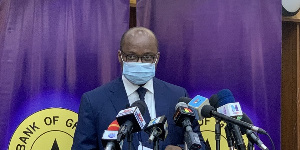 The central bank's Monetary Policy Committee (MPC) has lowered the policy rate by a 100 basis point at 13.5 percent from 14.5 percent.
Announcing the decision at its 100th MPC press conference, Governor of the Bank of Dr. Ernest Addison on May 31 said this was based on risks to the country's inflation outlook remaining muted in the near term.
He added that consumer inflation is expected to remain within the central bank's target band of 8% plus or minus two percentage points in the next quarter after falling to 8.5% in April 2021 due to lower food price inflation.
"Risks to the inflation outlook remain muted in the near-term under these circumstances, the (Monetary Policy Committee) decided to lower the monetary policy rate by a hundred basis points to 13.5%," the governor said.
The Governor pointed that his outfit will however monitor inflationary pressures on key sectors of the economy.
Source: www.ghanaweb.com
Ghana's public debt hits GH¢304.6 billion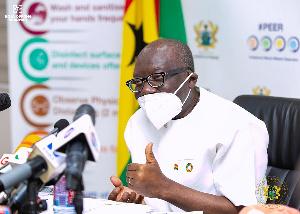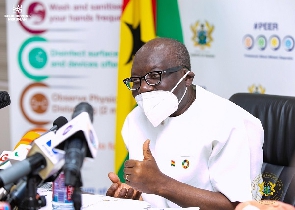 • Ghana's public debt has risen by GH¢3 billion
• This was revealed the latest BoG summary of Economic and Financial Data
• The US$3 billion Eurobond is a contributing factor
Ghana's public debt stock is now GH¢304.6 billion.
According to the latest Bank of Ghana (BoG) summary of Economic and Financial Data, it is a rise from GH¢3 billion in March 2021.
It is equivalent to 70.2% of Gross Domestic Product (GDP), lower than the 76.1% registered in December 2020.
The US$3 billion Eurobond raised by the country in March 2021 also accounted for this jump in the debt.
In a JoyNews reportage sighted by GhanaWeb, GH¢13 billion was added to the country's debt between December 2020 and March 2021, and at the end of the year 2020, Ghana's public debt stood at GH¢291.6 billion.
The report further stated that Ghana's external debt stood at ¢141 billion ($24.6 billion) in March 2021, as against GH¢141.8 ($24.6 billion). This is approximately 37.7% of GDP.
"Importantly, the financial sector debt went down by GH¢100 million to GH¢15.2 billion. It is equivalent to 3.5% of GDP.
"The debt could go down if levies collected to settle the financial sector debt is used to settle part of it," the report added.
Source: www.ghanaweb.com