I paid $1m to renew my license to mine – Wontumi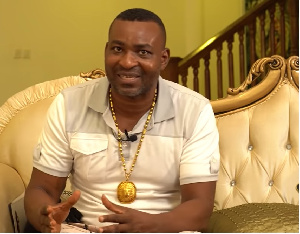 Ashanti Regional Chairman of the governing New Patriotic Party (NPP), Bernard Antwi Boasiako has said he has renewed his mining license and is set the run the company which has been dormant for sometime.
In an audio from inside a party executive meeting intercepted by Dailymailgh.com, Wontumi, as he is affectionately called, said he had already renewed his licence with $1 million to begin operations.
He is also heard hatching desperate measures to run affairs of the party in the region with proceeds from the mining business.
"…I had my excavators seized last year and not a single excavator was given to me. No one could even ask me to return to my site. I've been able to renew my license just 3 weeks ago after paying one million dollars($1million) and intend to go back to site anytime soon", Wontumi is heard in the audio as saying while delegates cheered him up.
"Because that's the only means through which I'm able to take care of people in the region. I was denied access to work until I paid. Yet people keep ranting that Wontumi has secured a job. If Kofi Job has been able to secure a job, why can't I?'' he quizzed.
In what seems to be a campaign to retain his post, Wontumi who appears not to be in the good books of the rank and file of the party in the region assured party executives at the meeting that he'll help them retain their positions if they support his candidature.
This latest development from the NPP stalwart appears to defeat President Akufo-Addo's fight against illegal small scale mining which has ravaged the country's vegetation including forests and river bodies.
Editor-in-Chief of the New Crusading Guide, Abdul Malik Kweku Baako revealed in 2019 that some members of the New Patriotic Party (NPP) are sabotaging the President's fight against illegal mining in the country, adding that the process 'is being challenged by party elements'.
Mr Abu Jinapor, Minister for Lands and Natural Resources has also admitted that most often than not, party people and lots of big wigs fight against the process at the Appointments Committee of Parliament during his vetting.
Again, a former Lands and Natural Resources Minister, Collins Dauda, has said government continued to suffer setbacks against the fight because its top executives at the constituency and regional levels were complicit in the act.
"…If you're a government and you want to deal with illegal mining activities and you have your regional chairman deeply involved in it, your constituency chairman deeply involved in it, it'll be difficult sometimes to call your regional chairman to order. Particularly if that regional chairman is so influential, that the angle I am coming from''.
Meanwhile, Defence Minister, Dominic Nitiwul says President Akufo-Addo will not hesitate to prosecute any minister of state arrested for engaging in illegal mining activities.
He also added that security officials who also engage in the act in any way will also not be spared and face full rigour of the law.
Addressing the press on following an operation to clamp down on the activities of illegal miners on various water bodies in the country, Mr Nitiwul stated that the Akufo-Addo government is resolute to clamp down on galamsey.
Source: Daily Mail
Good news for John Mahama camp as aide Joyce Bawa Mogtari welcomes triplets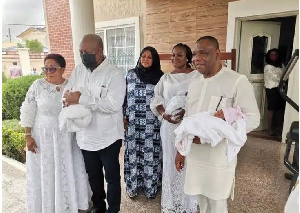 Special aide to the former President of Ghana John Mahama, Joyce Bawa Mogtari has given birth to triplets.
In photos shared on social media, the former Deputy Transport Minister is seen in the company of her husband, the former President and former first lady Lordina Mahama holding the children and dressed in all white signifying how blessed they are to have the children.
This will mean Joyce Bawa Mogtari currently has four children because she already has a son.
Joyce Bawa Mogtari is a Lawyer by profession and a leading member of the opposition National Democratic Congress (NDC).
She was appointed Deputy Minister of Transport in 2013 under the Mahama's administration and held the position until 2017 when Akufo-Addo's administration took over government after ousting the Mahama's administration in the 2016 elections.
She also served as Mr. Mahama's Spokesperson in the 2016 elections and was made the former president's Special Aide after the elections.
Source: mynewsgh.com
Akufo-Addo to launch Bawumia's campaign in North East?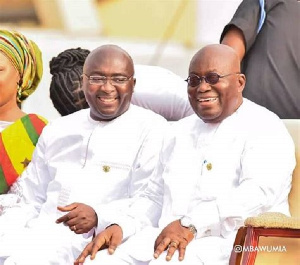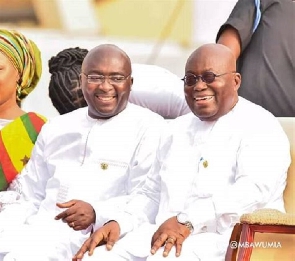 President Nana Akufo-Addo is about to do something really usual in his regional tour.
For the first time, the President and his Vice, Dr Mahamudu Bawumia, are embarking on his regional tour.
Never before has Mr Akufo-Addo nor any President of Ghana embarked on a regional tour with a Vice President.
From 22nd to 23rd June, Mr Akufo-Addo and Bawumia are to tour the North East Region.
Reliable sources say the President is aiming to use such Regional tours to campaign for Bawumia to be elected as Presidential candidate of the New Patriotic Party (NPP) for 2024.
Sources say Dr Bawumia's popularity has grossly faded, especially after he recently sought to unduly use the funeral of the late Sir John to run a campaign.
According to sources, the President is highly likely to appeal to chiefs in the North East Region to get their people to vote for Bawumia.
In the North East where Bawumia hails, they are to visit the Nayiri.
They are also to call on the chief of Walewale. Walewale is Bawumia's hometown.
Sources say it is becoming increasingly clear that Bawumia cannot win the NPP flagbearer race but the President is desperately trying to do everything possible to ensure that he wins.
According to sources, the President may take Bawumia on other regional tours that he (Akufo-Addo) is supposed to attend alone.
Both of them are to abandon Jubilee House, the seat of Government to campaign for Bawumia.
Interestingly, the President is going to campaign for his Vice at a time some of his appointees with Presidential ambitions are barred from campaigning.
The leadership of is also seeking to bar other Presidential aspirants from campaigning.
Source: Tarlue Melvin, Contributor