South Africa's Zulu nation appoints Queen as regent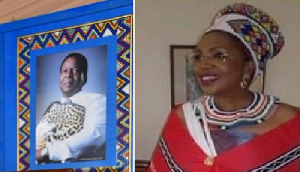 South Africa's powerful Zulu nation has appointed a new regent in the person of Queen Mantfombi MaDlamini Zulu, one of the six wives of the deceased king Goodwill Zwelithini.
The late king's will was read today in the presence of Prime Minister of the Zulu nation, Chief Mangosuthu Buthelezi who said the queen's appointment was in line with King Zwelithini's wishes.
His lawyers and some 200 members of the royal family met on Wednesday for the reading of the will. Local media portals had reported days ago that the Queen will take over till a new regent was picked.
Today's announcement makes it official as Zulus await the process leading to selection of a new king..
The new regent, Queen MaDlamini Zulu, is the late king's third wife and sister to Mswati III, the monarch of neighbouring Eswatini.
A three-month mourning period is to be observed by the Royal Family following which further decisions about the king's successor would be taken, Chief Buthelezi added.
"The loss of his majesty the king has been a tremendous blow and the family must be allowed to grieve.
"However, the regent and the royal family have asked that I impress on the nation the late king's wish for the people to take out their [gardening] hoes on Friday [March 26]" he added.
The late king was buried at a nighttime all-men private ceremony last week. President Cyril Ramaphosa took active part in the funeral leading to the burial. "The King is not dead. Kings don't die," Ramaphosa said in a condolence tweet.
Zulus believe the king does not die and that he had been planted. Zwelithini, an influential traditional ruler, died at the age of 72 having been monarch for five decades.
He is survived by six wives and at least 26 children.
Source: www.ghanaweb.com