VIDEO+PHOTOS: Mrs Magufuli, President Samia shed tears as Tanzania mourns Ex-leader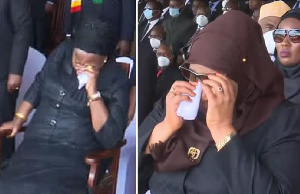 There were emotional scenes at today's state funeral for former Tanzanian president John Pombe Magufuli in the capital, Dodoma.
Janeth Magufuli, wife of the former president who was present at the event uncontrollably shed tears as she sat through the entire ceremony.
She was joined by President Samia Suluhu Hassan and other high ranking government officials and foreign dignitaries.
Suluhu, who was sworn into office on March 19, two days after the death of Magufuli, was also pictured wiping tears during the event.
Thousands of Tanzanians thronged the Jamhuri Stadium to pay their last respects to Magufuli who died at the age of 61 of heart complications.
Ten African leaders were present at the funeral, each taking turns to celebrate the person and values of the former president. Kenya's Uhuru Kenyatta was the sole East African leader to have attended the ceremony.
Mrs Magufuli (seated) weeps as president Samia Suluhu looks on at the Jamhuri stadium
President Samia Suluhu wipes away tears at the Jamhuri stadium
Source: www.ghanaweb.com