VIDEO: Davido and his men allegedly caught on camera "assaulting" a staff at a lounge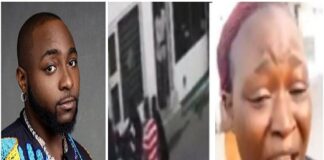 Recent reports have alleged that popular Nigerian singer, David Adeleke and his men allegedly beat up a staff at a lounge.
According to a video shared online, a lady who works at the lounge revealed that Davido and his men stormed the lounge to catch some fun and whilst they were enjoying themselves, they suddenly pounced on one of their staff members after the staff members complained about how they are abusing their property.
She said;
"Davido and his men came to the lounge to catch fun. We are working today so they were beating some guy so one of our staff now went outside to check that what's going on before the guy went outside and found out that they have already spoilt one of our property that they dropped and he was like you guys are spoiling our property.
They didn't even wait to know what the guy was saying, they were just beating up the guy. I was just crying like what's going on, what's happening, Davido didn't even say anything".
The video also captured the moment Davido's men allegedly pounced on the staff member and beat him to the extent of inflicting injuries on him.
Watch the video below;
#OBO YOU ARE FINGERED HERE OO PIC.TWITTER.COM/DNYVOTUQEO

— #DANGBELE (@MELLODIOFFICIAL) FEBRUARY 11, 2021
allegedly caughtallegedly caughtallegedly caught