HOT VIDEO : SHS girls go 'crazy' shows their inner 'pioto' while twerking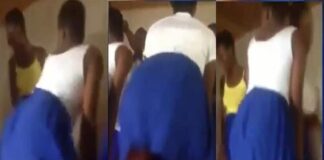 Some female Senior High School (SHS) students have caused another stir on social media. These students have decided to show Ghanaians on social media their undies.
While they were twerking, the camera captured their different undies. The video which is currently trending has caught the attention of many social media users.
These fans expressed their displeasure with what they saw.
@selmantrevor not impressed: "Well well cant people see it's a virus that took over women.
@jungleville2 commented: "The maggie cube and onga has made them to be active …. if you know u know."
@selaseati: "Eiiii this girls yebi papa."
@bwoy9122: "Wow very cute moooore." @tuffseed1: "Dis is madness." Watch the video below