HOT VIDEO: Mo Maame Tw3 – Funny Face Storms Kasoa Police Station, Rains Insults On Them For Manhandling Him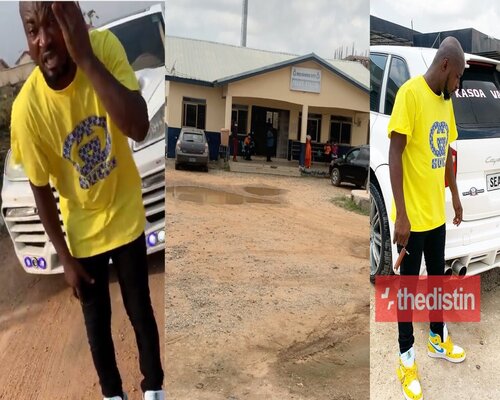 Actor Funny Face drives to the Millenium City Police at Kasoa where he was taken to when he was arrested to insult them.
On February 8th 2021, Funny Face was arrested and detained at the police station in Kasoa for his misconduct (unlawful firing of gun).
In a video sighted by Thedistin.com, Funny Face who was in his Range Rover car was stopped by policemen in their uniform with their guns.
They (the Police) according to the man who recorded the video slapped the musician cum actor as they dragged him by pulling his attire like a thief
Since when he was released from prison, the actor has been been blasting the policemen for manhandling him.
In a new post he has shared on his Instagram page, he was spotted with his gifted car by Adebayor as he stormed Kasoa police station.
Funny Face while sharing the video penned down how he is suffering body pains after the police dragged him on the floor in the process of his arrest.
He even noted that the used handcuff to hit his cheeks and it has left a mark on his face.
The Kasoa Vandam stormed the Millenium City Police at Kasoa but did not enter there as he used unprintable words on them.
Funny Face wrote:
🔥✊ " GYE NYAME " ✊🔥. #YABODAMFUCKING Herrrrh " EI GO OVER YOU PEOPLE " you will know da meaning of KASOA VANDAMME soon .. me and my kasoa boys are going to buy toilet roll .. we will use shit as demonstration agains #Policebeutality .. cos u guys are shit 😡😡🔥 fools !! GHANA POLICE KILL ME ✊✊🔥😡😡😡 so I know … it's all over .. but as long as live .. it will be like Chinese film between us … fools .. wicked evil men and women in uniform ✊✊🔥🔥😡😡👮‍♀️👮‍♀️👮‍♀️ but GOD bless good police women and Men !! Millenium city police station Zz I came to tell you " Mo maaaaamw tw3 " 😡😡✊🔥🔥 you people think .. you can slap and use guns to hit my head in ur police office .. and take me straight into cells without even allowing me to make my statement too .. all da booting da and beatings u guys gave me .. watch out for the return of VANDAMME "😡😡🔥🔥✊✊😩😩😩🥲😢😢 .. my whole body sef dey pain me .. you guys beat me like a thief ..herrrrh .. dis thing pain 😡😡🔥🔥🔥✊✊✊😩😩😩.. me and kasoa boys .. will shit and spread it all on dis police station … u guys will clean shit soon .. simply put .. " you will be catching shit " now not humans .. fools 😡😡🔥 cos you guys are SHIT 😡😡🔥🔥🔥 stilllllll " ONE MAN THOUSAND "" #STOPPOLICEBRUTALITY
Afterwards, Funny Face shared another video still expressing his anger on why he was treated like that and how he is suffering on his left eye.
He wrote:
✊🔥 " GYE NYAME " ✊🔥 … NYAME ntuaaa mu ka .. GHAna police .. ashawo Entity 😡🔥🔥 but GOD bless good police men and women .. for da bad ones .. Armed robbers will continue to shoot and kill u all everyday … my head and my eyes Chaley .. hmmm going through pains .. 😡😡🔥🔥✊✊ stilll " ONE MAN THOUSAND " 🔥