VIDEO: "I will ensure that DJs in Ghana never play your songs" – Andy Dosty challenges Okese1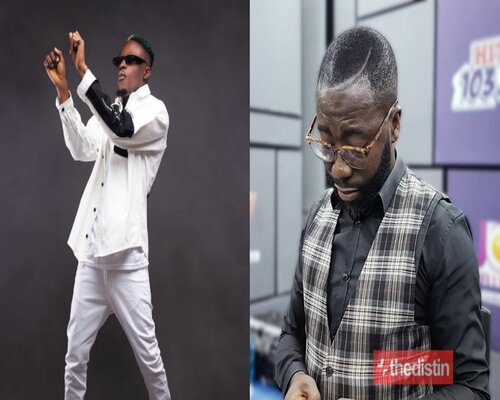 The wound that the supposed disrespect by Okese1 has wrecked on the heart of broadcaster Andy Dosty is deeper than many have thought.
This pain and sheer animosity were exhibited on Adom FM this evening when Mike 2 decided to call the two feuding parties and settle the differences.
Andy Dosty who was pumped and clearly in a state of unforgiveness said he is not going to allow Okese1 to disrespect him and go scot-free.
According to him, he is going to ensure that no Disc Jockey (DJ) plays any of the songs recently churned out by Okese1. He hit his chest and said Okese1 can seek spiritual help if he wants but his songs are never going to be played.
Some few chip-ins from Okese1 clearly got Andy Dosty infuriated who refused to sit as he conveyed his deepest reservations with so much emotion.
Andy Dosty then instructed Mike 2 to cut Okese1 from speaking on air. When questioned about his authority, he said he is the Head Of DJs at the Multimedia and directs that Okese1 is not given audience.
Watch Video Here: