Fire Guts Ghana Commercial Bank in Dzodze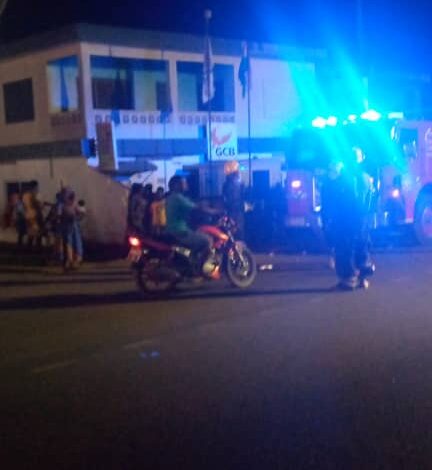 The fire had gutted parts of the Ghana Commercial Bank at Dzodze in the Volta Region of Ghana
The fire reportedly started around 6:45 pm on Monday evening, February 08, 2021, according to an eyewitness who spoke to My News Ghana
By 7:20 pm, the fire had gone out of control and some onlookers run to the Dzodze fire station to request their usual support.
Per the information gathered, the Ketu  North Fire service personnel's reportedly got to the fire station on time to mitigate the danger of the fire as the flames wandered close to a fuel station around the bank.
At the time of filing this report, the Ketu North Municipal firefighters had managed to destroyed nothing But a small portion of the building.
It remains unclear what may have started/caused the fire.
The residents commended the Ketu North fire service Commander and his personnel for their swift and prompt responses to their calls.
Source: MyNewsGhana.net