Fire gut shops in Wa 'Kejetia' Market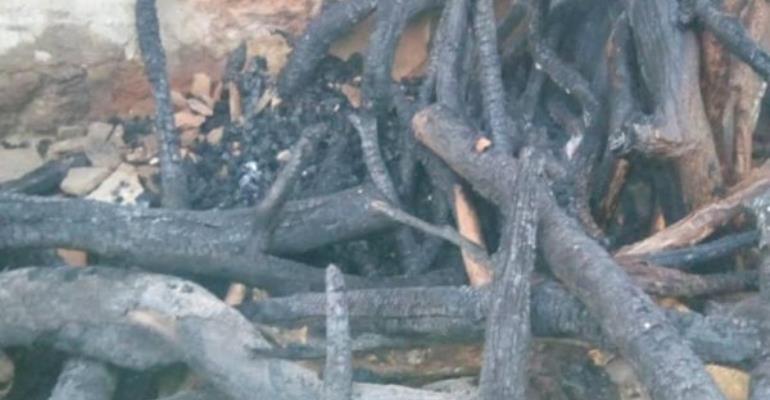 Fire razes seven shops at the Wa 'Kejetia' market in the early hours of Saturday, officials say.
The owners of the shops and their relatives were in tears at the time the Ghana News Agency (GNA) visited the scene at about 0800hrs.
Mr Nayaru Mahamud, the Chief Security Officer of the Wa 'Kejetia' Market, attributed the cause of the fire to some wood packed directly behind the wall of the building containing the shops.
According to the Chief Security Officer the food vendor failed to properly quench the fire on some used firewood that she added to the ones packed against the wall at the close of work on Friday evening leading to the fire outbreak.
Mr Mahamud said at 0100hrs he saw smoke coming from that direction and decided to check, only to find out that the firewood packed behind the wall had caught fire and had already spread to the roof of the building.
"When I saw that I quickly called my other colleagues who rushed and came and I instructed them to start pouring water on the fire while I called the personnel of the Ghana National Fire Service (GNFS)," he said.
Mr Martin Bakobie, Divisional Officer III (DO III), the Upper West Regional Public Relations Officer of the GNFS, in an interview with the GNA, commended the Security men at the market for their vigilance in spotting the fire early and contacting the fire service.
He said they received a call at about 0110hrs and commended men of the Service for their timely intervention to save the entire market from burning.
"The training we gave to the security men at the market to serve as fire wardens has indeed paid off," he said.
Mr Tahiru Issahaku Moomin, the Wa Municipal Chief Executive (MCE), who visited the scene, sympathized with the affected persons and assured them of support.
He said the Assembly would collaborate with the GNFS and stakeholders to address the safety challenges in the market.
On the implementation of safety recommendations made by the GNFS, the MCE said he was yet to see the proposals.
However, he said, after reading the GNA report on safety concerns, he instructed the Coordinating Director to find the document for them to take action.
Madam Ama Tawiah, a Sister of Business Man 'Tee Pee,' said her brother's electrical appliances warehouse was gutted.
Madam Akua Atwiniwaa, one of the affected persons, said the fire destroyed several crates of eggs, adding that the incidence would affect the repayment of a loan she took from the bank to invest in her business.
—GNA