Timber operator shot dead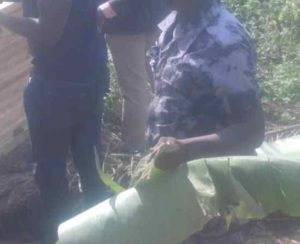 A timber operator has been shot dead following a scuffle between some irate youth and Forestry Commission officials at Frimponkrom, a suburb of Nkrankwanta in the Dormaa West District of the Bono Region.
The Bono Regional Police Public Relations Officer confirmed the news, saying the incident occurred on Friday 10 December.
Superintendent Augustine Kingsley Oppong said members of the forestry monitoring team from Dormaa were embarking on a patrol with the military when they chanced upon a loaded lumber truck in a forest near Frimponkrom.
He said the team was attacked by the irate youth when it approached the parked truck. The team in attempt to protect itself, according to the police, fired back resulting in the death of 45-year-old Mohammed Sani.
The youth in an attempt to retaliate attempted to burn the Dormaa office of the Forestry Commission. However, a combined team from the police and military foiled the plan.
No arrest has been made so far in connection with the killing of Sani.
Meanwhile, the Police have launched a full-scale investigation into the incident after depositing the body of the deceased at the morgue for autopsy.
Source:Asaaseradio