Man stabs cousin to death over family house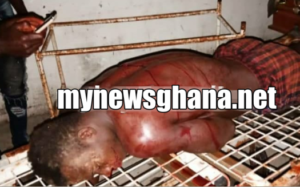 A 50-year-old man, Hamidu Fuseini, who stabbed his 35-year-old cousin, Izideen Awal, to death over a family property at Suame Zongo in the Suame Municipality of the Ashanti Region, has been arrested by the Suame District Police Command.
An uncle to the deceased, Baba Kankani, has also been arrested in connection with the murder.
The incident occurred on Sunday around 11 pm during a misunderstanding over the family property (house) located at Suame Zongo.
Superintendent Emmanuel Asiamah, the Suame District Police Commander, confirmed the arrest in an interview with Kumasi FM's Elisha Adarkwah.
He said the two relatives, among other family members, were discussing issues concerning the family property, which degenerated into a heated argument.
Mr Fuseini, in the course of the misunderstanding, went into his room, took a knife and stabbed the deceased twice in the neck and the face.
He was rushed to the Komfo Anokye Teaching Hospital but was pronounced dead on arrival.
Superintendent Asiamah said the suspect was arrested when he came to the police station to lodge a complaint after the incident that he had been assaulted by the deceased unbeknownst to him that Izideen had died.
An uncle to the deceased was later arrested by the police for his role in the murder.
He said the suspects are in their custody and being processed for court.
The deceased has since been buried at the Tafo Cemetery in accordance with Islam.
Earlier, there were claims that the stabbing happened as the two argued about politics after the Electoral Commission declared President Nana Akufo-Addo as the winner of the 7 December 2020 presidential poll.
According the Constituency Organiser of the New Patriotic Party (NPP), Mr Mustapha Owusu, the deceased was a supporter of the main opposition National Democratic Congress (NDC) before crossing carpet in the lead-up to the polls.
He said: "He's an NDC supporter living in his family house. All his family members are NDC but he has defected to NPP. He's worked hard with us to ensure our victory. The day before yesterday, he was playing NPP songs and they [NDC members] said: 'The election was rigged for the NPP'. But he said: 'Twelve persons contested, 10 have congratulated him [Akufo-Addo], how come only you guys [NDC members] are complaining that it was rigged for him?"
According to the NPP Constituency Organiser, "the argument became confrontational, and, so, he [the victim] turned off the music and left for work but when he returned in the night, as soon as he entered the room, they [family members] started banging on his door amidst yelling of: 'Open it!'
"He heard the mother's voice asking what was going on and when he unlocked the door, he was stabbed in the neck."
However, a sister to the deceased, Hajara Mohammed, has refuted that claim.