[VIDEO]: Bukom Banku physically attacked in Odododiodio scuffle on election day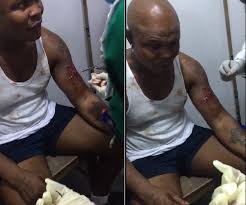 The former Sports Minister is alleged to have masterminded the fracas in the constituency.
In a video which has gone viral on social media, nurses are seen stitching the open wound of Bukom Banku.
Although one of the nurses attending to the boxer called to an end of the clashes, Bukom Banku insisted in the video that there would be more casualties in the constituency as a result of the clashes.
"People will die in Odododiodio more than any constituency. Three people died yesterday, so more will die," Bukom Banku said in the video.
Graphic Video
Source: Ghanaweb.com