WATCH VIDEO: Jubilant NPP supporter busted for stealing 4 items at a pharmacy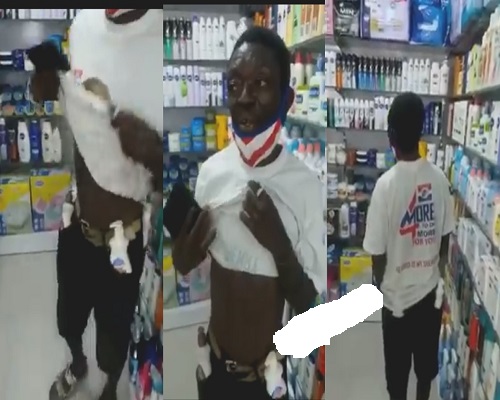 An NPP supporter has been busted for stealing at a pharmacy during yesternight's nationwide celebration of the election victory.
After the EC Chair declared Nana Akufo-Addo the winner of the 2020 Presidential Election, scores of NPP supporters flooded the streets of Accra, Kumasi, Tema and other places to celebrate.
One of the jubilant supporters decided to hide behind the jubilation to steal but unfortunately he was busted.
He was busted at one of the Accra branches of Unicom Chemist with 4 stolen items in his pocket.
The shop attendants recorded him with the items in his pocket and shared it on social media to humiliate him.