VIDEO: NPP Chairman leads thugs to vandalize party property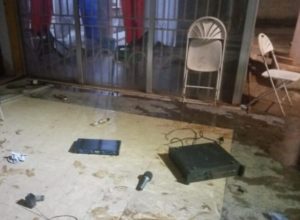 The Amenfi East Constituency Chairman of the New Patriotic Party(NPP), Asafoankye Kwame Badu popularly known as Ayenmposuro has been accused of sending machete and gun-wielding thugs to vandalize party property after the announcement of President Nana Addo Dankwa's victory.
According to sources, the chairman together with the MCE planned and executed a skirt and blouse agenda against the NPP parliamentary candidate Ing. Edward Amo- Acquah. The chairman who is reportedly neck-deep in galamsey operations with the MCE emboldened most galamsey operators in the constituency to campaign against Nana Addo and the PC whiles they found a way to protect them from the operations of Vanguard.
The hatred for the parliamentary candidate comes from the loss of the Member of Parliament, Hon Patrick Saime in the NPP primaries.
Even though Hon Saime campaigned, he was also reported to have instigated a session of people from his hometown, Oppong Valley to preach skirt and blouse. The people in a twist of events voted for Nana Addo and Amo Kay instead.
After the announcement of President Nana Addo Dankwa Akufo-Addo as president by the electoral commission, the youth hired a sound system and took to the streets to jubilate as they had lost the parliamentary seat.
Upon reaching the party office, they all gathered there to continue the jubilation which went on for hours.
Around 8:30pm, the chairman together with the thugs who claimed owned the party office stormed the premises and destroyed the music equipment bringing the jubilation to an abrupt end.
Insider information indicate the chairman and the MCE both championed the skirt and blouse vote. Interestingly, both the Chairman, MCE and MP failed to join the campaign team throughout the campaign.
The Chairman claimed he had a swollen leg, yet was seen at a festival organised by the paramount chief of Wassa Amenfi. He also drove to the party offices in Takoradi to receive party funds for election.
The MCE and MP on the other hand did not showed up at all in any of the campaign. They rather called vanguard to enter areas where galamsey is prevalent right after the NPP campaign team had left the place.
For example, the Vanguard went to galamsey sites in Asikuma the next day after the campaign team had visited the community, to vandalise galamsey equipment without arresting anyone. Meanwhile, the NDC candidate on the same day had gone to promise the people of a massive support if they vote for him. This reflected in the results as Asikuma voted against the NPP for the first time.
The actions of these people has angered the youth and likely to cause reprisal attacks if no action is taking against them.
In an interview with one of the youth groups, they mentioned that; 'their hard work, door to door campaign has been in futile due to the selfishness of these people in office'.
Watch the video below:
Source: MyNewsGh.com