#2020polls: NDC supporters storm EC HQ, demand declaration of results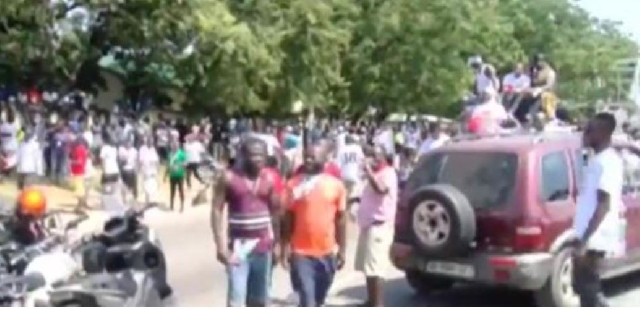 Supporters of the National Democratic Congress (NDC) have massed up at the headquarters of the Electoral Commission in Accra, demanding that the Chairperson of the election management body, Mrs Jean Mensa, declare the presidential results of Monday's polls.
The supporters chanted "we want peace" and insisted that the flagbearer of the main opposition National Democratic Congress (NDC), Mr John Dramani Mahama won the election and, so, they will not allow anyone to rig the polls.
Some supporters held placards with inscriptions like:"'EC, we want peace", "For Agyapa and PDS we will vote you out", "Ghana has spoken", "Let the EC declare the results", "We know the NDC has won the election" among others.
The police have called for reinforcement and the military have been deployed to the scene.
Meanwhile, the EC has said it will declare the winner of Monday's polls by the end of today, Wednesday, 9 December 2020.
The EC had intended announcing the results by 5 pm Tuesday but could not stick to its own deadline due to some "challenges".
"We express our regret for our inability to declare the results at 5 pm on Tuesday, as planned", EC Chair Jean Mensa told journalists Wednesday dawn.
"The unexpected rains and some of the challenges we experienced at the collation centre, made it difficult to declare the result as expected", she explained.
She said: "We are hoping that, in the early hours of today, we will receive two additional results and will, thereafter, be able to make the declaration today".
The Commission has received 14 out of the 16 regional results.
Source: classfmonline.com