New video shows three Minneapolis Police officers kneeling on George Floyd before his death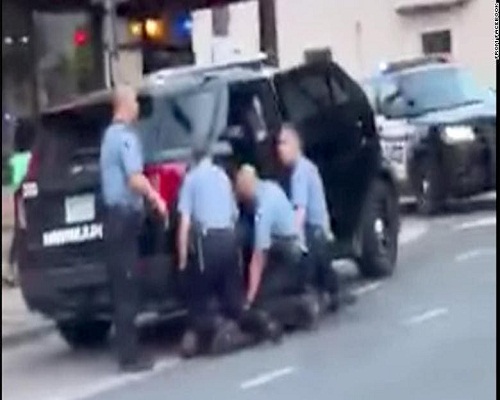 A new video has surfaced online, showing not just one but three Minneapolis Police Department officers kneeling on George Floyd during his arrest on Monday.
In the video, George Floyd can be heard begging that he could not breathe, he later died in the Police custody.
Previously, a video was shared online by an eyewitness Darnella Frazier showing the fatal arrest but in an angle that showed only one police officer, Derek Chauvin, kneeling on the neck of George Floyd, 46, while he begged for his life.
Derek Chauvin has been arrested and charged for third-degree murder and manslaughter, after the video sparked outrage and calls for Justice.
The new video shows the Minneapolis police vehicle where the arrest occurred, Chauvin and two other white officers are filmed all kneeling on Floyd, a black man.
Three police officers handcuffed and pinned George Floyd to the ground, killing him. The fourth officer made sure no one could save him. Yet all four police officers are still FREE. Why? pic.twitter.com/AQlDc7tzAh

— Donna Imam (@donnaimamTX) May 27, 2020