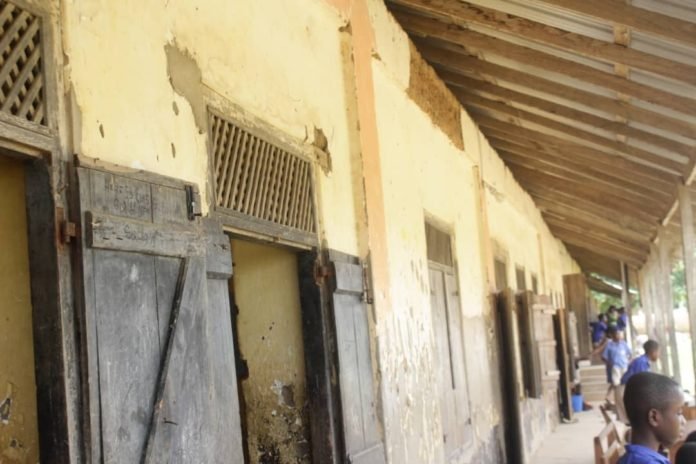 Teachers and Pupils of Adawso Presbyterian Basic School in the Akuapem North Municipality of the Eastern region say though excited for the roll out of the new Kindergarten and Primary School Curriculum beginning this academic year, they are appealing for urgent government intervention in reconstructing their collapsing school building and provide the School with desks.
Adawso Presbyterian Basic School established in 1908 with mud has not seen any major renovation as the strength of the school building continue to deteriorate leaving it with deep cracks threatening lives of over 500 pupils and their teachers .
The School closes whenever the cloud gathers.
Inadequate desks in the school is also a major worry as many pupils are compelled to either stand or dangle on the few desks available.
The Headteacher of Adawso Presbyterian Basic School, Isaac Kwasi Agyei told Starr News "seriously our facility is nothing to write home about. It is a dilapidated structure that the children are using. We are not safe. Whenever it rains we close and let the children go home which affects academic work. As a matter of fact Teachers are not happy ,parents are not happy .We have applied to the municipal Assembly for support but we are not hearing anything."
The pupils of Adawso Presbyterian Basic School who spoke to Starr News at an event in the School were excited about the New Curriculum but prayed for a facelift of their deplorable classroom structure which they say in discomforting to learn in.
"There is always leakage in every classroom when it rains and we need the support of the government to construct a new facility for us. Robbers enter the class any how to steal books and other things because of poor windows and doors," a pupil lamented
"It is not good at all whenever it rains there is leakage our books get wet even the computer lab too.We are always afraid because of the deep cracks in the building
The Executives of the School Management Committee say in as much as they welcome the new reforms, the poor perilous state of the school building is of great concern with a call on government to intervene.
Source: Ghana/Starrfm.com.gh/