Residents of Ayigya, a suburb of Kumasi, were thrown into a state of shock over a discovery of a coffin with a dead body found in front of a drinking spot in the early hours of Wednesday, August 15, 2018.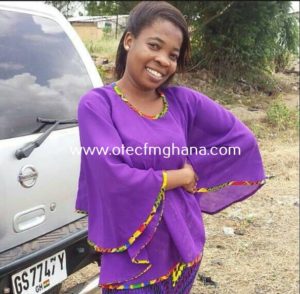 The coffin, which was brought by a black hearse, with registration number BA 751-15 from Accra, was later confirmed to contain the remains of a 26 year old Ataa Ativor, who used to live with her family members in the area.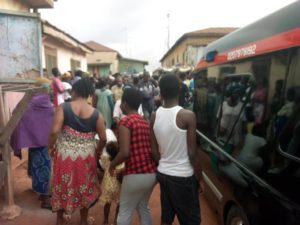 A family member, Yaw Ativor, who confirmed it to Otec News' Isaac Nsiah Foster, said the Head Pastor of Spirit of Truth Ministry, in Ayigya, Bishop Kingsley Harrison, who was living with deceased in Accra, brought the hearse with the body.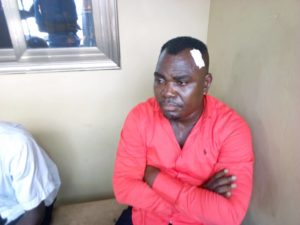 He said the deceased, at the age of eight, was adopted by the pastor after the death of her father, Togbe Ativor, a church member, ten years ago, and sent to Accra.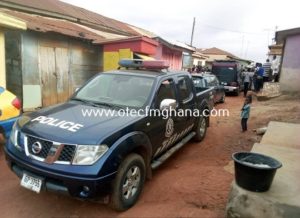 According to Isaac Nsiah Foster, the family's refusal to accept the body resulted into a clash between the family and church members, which recorded some injuries among them.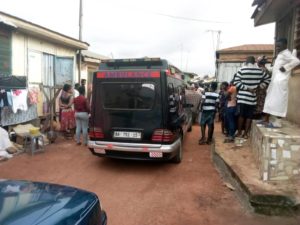 He said both parties reported the incident to the Tech police station, where the pastor said after the demise of Ataa, whose name was later changed to Doreen Harrison by the pastor, persistent calls to the family for the body proved futile.
"When Doreen died of asthma, I sent messages to the family at Ayigya about her death and the possible means sending the dead body but they refused. The body has been in the mortuary for 109, which comes with a high cost. The family members gave me August 15 this year as a deadline to bring the dead body or I will face court action. I have no option than to bring it here this morning, which they have rejected," the pastor narrated.
In response, the family head of the deceased, Yaw Ativor, rejected the pastor's claim and said "the pastor should have informed us when Ataa got sick and died. It was a family member who told us of her death. The pastor requested our presence in Accra for burial which we refused and that made us to him the ultimatum to send her here".
"We will not accept the fact that she died of asthma, he must produce medical documents to the effect, because we find it strange why we were not told of her sickness and demise," he enquired.
The Tech police have asked Bishop Kingsley Harrison to produce medical documents the deceased, ordered the body to be deposited at the Komfo Anokye Teaching Hospital (KATH), while investigation goes on.
Source: Ghana/otecfmghana.com/Isaac Nsiah Foster