Kumasi High Court, presided by His Lordship Justice Nicholas M. C. Abodakpi, has ordered for the demolition of a structure built near the Kejetia Bus Terminal Project in Kumasi that has impeded the progress of the facility, scheduled to be opened for business on August 2018.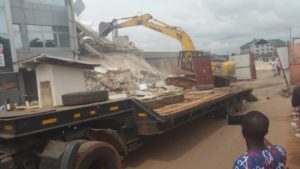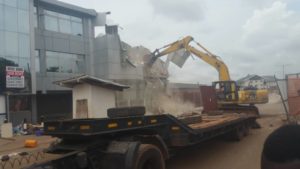 This followed the dismissal of a motion filed by the occupant of the structure, Costa Pharmacy Limited, praying the court to restrain the owner of the building, All State Construction Limited and Kumasi Metropolitan Assembly (KMA), after been compensated by the sum of GHC 200,000, to relocate.
The said building and other structures have been a subject of a long litigation between the KMA and a private developer, All State Construction Limited over compensation issues.
The said structure, according to the Brazilian construction firm, Contractor Engenharia Limited, is sited a few metres from the entrance of the project, blocking access roads and drainage systems.
Passing judgment on Thursday, July 19, 2018, Justice Abadakpi said "I am convinced that to grant injunction to halt a national project of enormous benefit to the citizenry is to put the interest of a few above the collective interest of all. Compensation which must be adequate is the solution, and there is sufficient evidence of commitment made by the defendant/KMA -the Local Government and Central Government itself to perform the obligation that has been accepted".
"Consequently, this is not a proper case in which the motion must be granted. The status quo cannot be maintained, injury that the Plaintiff and 1st respondent shall suffer could be compensated for adequately," Justice Abadakpi said while dismissing the case.
Demolition
The demolition exercise which was executed on Wednesday, July 25, 2018, by the KMA, was supervised by the security personnel from the police, military and the officials of Contracta Engenharia, after inventory was conducted.
The Kejetia bus terminal, which is the phase 1 of the Kejetia Market Project, at the cost of $100 million, started in 2015 and was scheduled to be completed in January 2018 but had to be delayed because of the pulling of that structure.
Source: otecfmghana.com