New VAT Regime: Citizens'll pay more – IMANI
Dr Theo Acheampong, a fellow of think tank IMANI Africa, has pointed out that the new Value Added Tax (VAT) structure will place more financial burden on the public, as consumers are likely to pay more for products and services.

Finance Minister Ken Ofori-Atta told parliament categorically on Thursday, 19 July 2018 that there will not be any increase in Value Added Tax (VAT) as widely speculated.

It had been reported by some media houses that the government intended increasing VAT from 17.5% to 21.5%.

The speculation was sparked by Mr Gabby Asare Otchere-Darko, nephew to President Nana Akufo-Addo, on social media.


The Minority in Parliament and the main opposition National Democratic Congress took issue with the government over the speculation and vowed to fight any such tax increase.

However, Mr Ofori-Atta announced a restructuring of the components of VAT rather than an increase.

He said there will be a 2.5% conversion of the National Health Insurance Levy (NHIL) component to a straight levy as well as a conversion of the Ghana Education Trust Fund (GETFund) VAT rate from 2.5% to a straight levy.

"On the under-performance for the first five months of 2018, we will end the year with an estimated deficit of 4.9% of GDP compared to the programmed target of 4.5%, resulting in a fiscal gap of GHS870 million, unless we immediately implement some fiscal measures; intensive tax compliance measures, New revenue measures, Intensive Conversion of NHIL (2.5%) to a straight levy, Conversion of GETFund VAT rate of 2.5% to a straight levy, Imposition of luxury vehicle tax of GHS1,000 – GHS2,000 on non-commercial vehicles with capacity of 3.0 litres and above, review of PIT to include an additional band of GHS10,000 and above per month at a rate of 35% and downward adjustment discretionary expenditures," The Finance Minister said.

Commenting on the development, Dr Acheampong said: "The government says VAT rate has not been increased which is the case as the marginal rate still stays at 17.5%. However, the question we really ought to ask is: 'Will businesses or consumers in effect pay slightly more consumption taxes by the change in the mechanics of the computation?' I think so, and as a matter of explanation you'll end up with the following:

1. Current VAT Structure: 15% VAT (including 2.5% GETFund component) and 2.5% NHIL (all based on input-output tax calculations)

2. New VAT Structure: 12.5% VAT (computed as an input-output tax) 2.5% GETFund levy (based on transaction values) 2.5% NHIL (based on transaction values).

"So, the rate stays the same but the amounts collected will increase and subsequently the overall tax burden. Let me illustrate this with a dressmaker who purchases a fabric from Makola costing GHS90 as raw material input and eventually sells the dress made using the fabric at GHS100, all without VAT (ex-VAT). Under the new VAT scheme, the dressmaker will pay a combined 5% GETFund and NHIL levy amounting to GHS4.5 but they cannot recover this as an output tax credit which was the previous case as this is now not cost recoverable. It becomes a business expense! Normally, when businesses buy things, the VAT cost on the raw materials such as VAT is supposed to be fully reimbursed.

"However, by the government of Ghana decoupling the 5% NHIL and GETFund component of VAT, this levy (business tax) becomes a business cost which is non-reimbursable. The dressmaker subsequently sells the good at GHS117.50 but their net profit before VAT becomes GHS5.50 (GHS100-GHS90 GHS2.25 GHS2.25) whereas the net VAT and levies paid by them to the government (GRA) becomes GHS6.25 (12.50-11.25 2.50 2.50). Hence, most business will have to decide whether to absorb this extra 5% charge, eating into their profit margins or pass this on to the consumer although the latter is more likely to be the case. What is constant in all of this is that the government will still accrue more money by the change".

He, therefore, charged industry players and organised labour to submit good proposals to government in order to mitigate the effect of the reviewed taxes.

"I hope the Association of Ghana Industries (AGI) and other business group see this as well and up their lobbying efforts before the amended VAT act is passed by parliament to give effect to the proposed policy changes," he admonished.

Source: Ghana/ClassFMonline.com

Former Ghanaian dance champion Alex Ofori passes on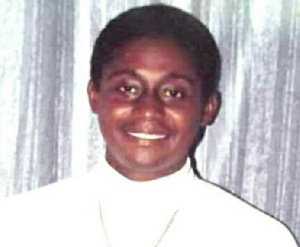 •The late Alex Ofori was a choreographer and a fashion model
• He became much popular after winning the Ghana National Dance competition in 1988
• The late dancer has been eulogized by popular Ghanaian media personality, Mr. Kwasi Kyei Darkwa
Former Ghanaian National Dance Champion, Alex Ofori, has reportedly passed on.
The late Alex Ofori who shot to fame after winning the Ghana National Dance competition in 1988, has worked with the likes of Slim Buster, who won the championship in 1987, Ebenezer Ako Nai who also won in 1987, Terry Ofosu Bright, aka Sir Robot who won in 1989 and Reggie Rockstone among others.
Announcing his demise on Facebook on June 16, 2021, veteran broadcaster Kwesi Kyei Darkwa (KKD) stated that the dance champion brought so much excitement and joy to Ghanaians whenever he got on a stage or dance floor.
He also eulogized him paving the way for new dance talents the country currently possesses.
"Rest in peace ALEX OFORI, Former National Dance Champion- Great Embassy Double Do, Dancer-Choreographer & Fashion Model. You brought so much excitement & joy to our motherland wherever you got on a stage or dance floor. With the likes of World Dance Champion Adjetey Sowah, unique breakdancer Reginald Osei aka Reggie Rockstone, Show dancers Firekiller, Como Basto, Carlos Alberto, Tee Pee & many enthusiastic young talents of the 80s & 90s, you helped turn what was your passion into a mainstay of live shows & television entertainment. Today, those talents you shared with the world just for fun, your labor of love has become a popular profession."
"You & your colleagues paved the way for the talent we enjoy in dance choreography at national events & in numerous music videos. Life: How unpredictable you are. & how fragile we are," he wrote on Facebook.
It can be recalled that the late Alex Ofori once represented Ghana at the World Dance Championship series at the London Hippodrome.
Read the post below:
Source: www.ghanaweb.com
VIDEO: Kennedy Agyapong celebrates 61st birthday in Dubai with his 16 daughters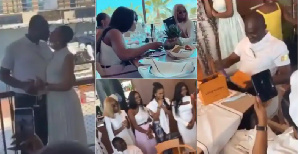 • The Assin Central MP was swamped by his beautiful daughters at his 61st birthday party in Dubai
• Kennedy Agyapong turned 61 on June 16, 2021
• The lawmaker received and unwrapped some expensive gifts from his children
Assin Central MP, Kennedy Ohene Agyapong, joined his daughters in Dubai to celebrate his 61st birthday on June 16, 2021.
In a video making rounds on social media, the outspoken lawmaker was captured in a plush restaurant, swamped by his beautiful daughters and wife.
With the exception of Arnell, who is alleged to have been 'disowned' by Mr. Agyapong, the rest of his 16 beautiful daughters were seen seated at a dinner table with their father having a nice time.
Beaming with smiles, Mr. Agyapong one-by-one unwrapped the gifts presented to him by his children.
The all-white birthday party was climaxed with a kiss from his wife.
Watch the video below:
Source: www.ghanaweb.com
One shot as sand winners clash with Okyeman taskforce at Adeiso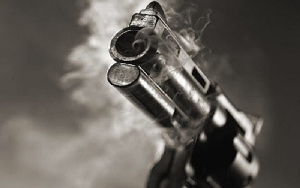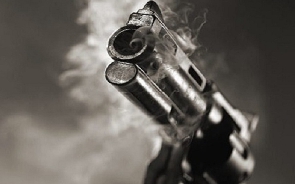 One person has been shot in a clash between the Okyeman Environmental Protection task force and sand winners at Adeiso in the West Akyem Municipality in the Eastern region.
The task force stormed the Tank Akuraa community near Adeiso, arrested and handcuffed one Osae Kwame, a sand winner and threw him into a Nissan Pick Up but were pursued by the youth who rescued him.
Later the taskforce members attacked Summertide sand winning Company site at Obeng Yaw village, also near Adeiso, amidst the firing of guns and arrested five workers and shot one other.
Armed police responded to the distress calls about the incidents but the Taskforce failed to stop when signalled by Police.
They were given a hot chase but to no avail.
Information spread through the Communities leading to the youth mounting roadblocks and attacked the task force.
Sensing danger Okyeman Mponuahene, Barima Twum Tabriade and Okyeman Akwansrahene went to the Adeiso police station to seek refuge in a Jeep Patriot SUV with registration number GS9835-19 which had three tyres deflated.
The angry youth and sand winners massed up at the Police station seeking the release of the two chiefs for instant justice.
Due to the tension, Adeiso District Police command called on the Divisional Command for reinforcement to contain the situation.
A search in the Jeep SUV which belongs to Akwansrahene, Baffour Sarpong, contained one AK 47 assault rifle with 3 magazines and 7 Pump-action cartilages.
The five (5 ) suspects including the two chiefs were whisked to Asamankese Divisional Headquarters by the reinforcement team where they were granted Police enquiry bail.
The Public Relations Officer of the Eastern Regional Police Command, DSP Ebenezer Tetteh confirmed the incident.
He said the Regional Police Command has dispatched a team to the troubled area to help resolve the matter to restore calm.
Okyeman Environmental Protection Taskforce was formed over a decade ago to fight against illegal mining, illegal sand winning and illegal chainsawing.
Source: starrfm.com.gh