Relocation exercise by KMA: Asantehene's wife praises Kumasi Mayor
The Wife of Asantehene, Otumfour Osei Tutu II, Lady Julia Osei Tutu has praised and thrown her support behind the CEO of Kumasi Metropolitan Assembly (KMA), Hon. Osei Asibbey Antwi on the relocation exercise the Assembly is embarking on to ease congestion in the city.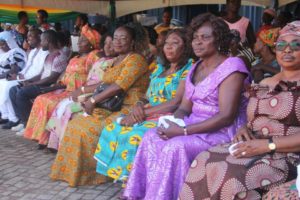 Lady Julia said that she will support any legal means that will make the city reclaim its past glory of 'Garden City of West Aftica' that eventually honours Asanteman.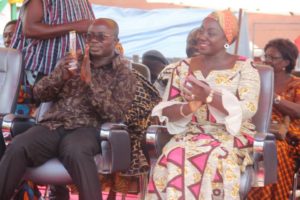 The Asantehene's wife said this when together with the Kumasi Mayor, Hon. Osei Assibey Antwi, visited traders at Bantama on Friday, June 29, 2018, to abreast herself with the current situation concerning the relocation exercise.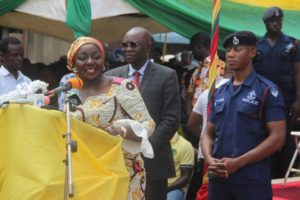 Praising the Kumasi Mayor in his bold and resolute decision to sanitize the city,  Lady Julia addressing the traders said Asanteman headed by her husband have the  wellbeings of traders in their heart hence the decision to visit them and access the challenges confronting them.
According to her, the Asantehene believes Hon. Assibey Antwi is capable of developing the city and needed to be encouraged and supported, as he has shown a lot of commitments since assuming office, in his policies, for example, "Keep the City Clean and Green" campaign, aimed at making the city free from filth.
'' The relocation exercise is very good for the development of the city and you should coorperate to support the move for the betterment of Kumasi and Asanteman," she emphasized.
Lady Julia expressed her thankfulness to the Kumasi Mayor for addressing the challenges facing the  traders in the relocation exercise.
"I would like to say 'well done' to you the Mayor of Kumasi for a good job done. You have shown beyond all reasonable doubts that indeed you have Kumasi and Asanteman at heart, and i will urged you that, with the support of my husband, Asantehene and myself, to remain focus in the development of Kumasi, we thank very much," she praises Hon. Assibey Antwi.
The Kumasi Mayor, Osei Assibey Antwi, on his part, expressed his appreciation for the recognition, support and praises given him by Manhyia and not to be "swollen headed" but keep on the task of making the Kumasi developed to honour the Asantehene and Asanteman.
He disclosed that the Assembly within two weeks will move all the traders to Race Course and vowed not to  tolerate the selling of goods in the streets of Kumasi, not even on roads and footways.
Source: Ghnana/otecfmghana.com