Marietta Brew appointed ICC member
Former Attorney General, Marietta Brew Appiah-Oppong, has been appointed as a member of the International Court of Arbitration.
Her appointment takes effect from 1 July 2018 to 30 June 2021, the appointment letter signed by Alexis Mourre, President
 of ICC International Court of Arbitration said.
"I am delighted that you have agreed to serve as part of the 1 July 2018 – 30 June 2021 term of office; the inauguration of this revitalised and fully gender-balanced Court opens a promising new chapter in the Court's history with its largest, most regionally and generationally diverse network of members to date," the letter read in part.
Below is the appointment letter:
Dear colleague,
Paris, 27 June 2018
I am writing to congratulate you upon your appointment as a member of the International Court of Arbitration following the ICC World Council meeting which took place in Paris on 21 June 2018.
I am delighted that you have agreed to serve as part of the 1 July 2018 – 30 June 2021 term of office; the inauguration of this revitalized and fully gender-balanced Court opens a promising new chapter in the Court's history with its largest, most regionally and generationally diverse network of members to date.
In line with the Court's decision not to permit members to serve for more than two consecutive full terms, close to half of the Court members are new entrants. The new Court is a unique group of outstanding professionals, and it will be a privilege and an honour for me to work with all of you over the next three years. We look to our renewed members to carry forward the Court's unparalleled institutional knowledge and experience from the current term of office, as well as counting on incoming members to bring fresh enthusiasm and a broad range of new perspectives to the essential work of the Court.
The Court must continue on the path set by its outgoing members, to whom the Court is indebted for their invaluable expertise and input throughout the years, and continue striving to offer global excellence to users worldwide, in particular with respect to the Court's signature service of award scrutiny. You will have ample opportunity throughout this term of office to contribute first-hand to this unique service by participating in the sessions of the Court and I look forward to counting on your active engagement in this regard. The Court's success rests on the immense dedication of its members and I am confident that the Court will continue to provide users with a service of the highest quality, helping to secure ICC's position as the parties' preferred institution in every continent.
The ICC International Court of Arbitration is a unique organisation. It is in fact the only truly global arbitral institution, administering arbitrations from its offices located in Paris, Hong Kong, New York, Sao Paolo and Singapore, with a Secretariat able to work in more than 20 different languages and Court members from over 110 different countries.
Before the next term begins, I would like to draw your attention to a change in ICC's practice with regard to reimbursements for Court members. Up to and including the current term, reimbursements were made biannually to Court members. Please note that as of 1 July 2018 reimbursements will be discontinued due to internal operational reasons.
Court members remain responsible for making their own travel arrangements and any related expenses are not defrayed by ICC. A list of hotels with which ICC has negotiated rates for its members is attached for your reference. We do not offer video link participation for plenary sessions, however remote participation can be arranged for the weekly and special committee meetings of the Court, meaning that members need not systematically travel to Paris in order to be active in the role. Similarly, you are welcome to participate from the Hong Kong, New York, Sao Paolo and Singapore offices whenever convenient.
I attach the 2018 and 2019 Court schedules for your perusal and encourage you to attend regularly. In particular, I draw your attention to the importance of the Working Session which sees the full Court united in Paris once annually. Please mark your diaries as the Working Session provides a unique opportunity for the Court as a whole to discuss matters of ICC Court practice and policy.
In order to schedule your participation in any sessions of the Court, you are invited to contact Francesca Hill Caucat who will be delighted to provide you with all necessary information in relation to the organisational side of your new role and answer any questions you may have in this regard.
If you have not already done so, please verify that you have completed the administrative formalities requested at the stage of your nomination, in particular ensuring that your curriculum vitae and a signed copy of the non-disclosure agreement have been returned to the Secretariat before 1 July 2018.
I look forward to a fruitful collaboration in the coming three-year term and trust that you will make the most of this opportunity both to represent your region at ICC and also to promote ICC in your region.
Yours sincerely,
Alexis Mourre
President
ICC
International Court of Arbitration
Source:Ghana/ClassFMonline

Former Ghanaian dance champion Alex Ofori passes on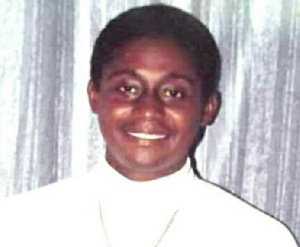 •The late Alex Ofori was a choreographer and a fashion model
• He became much popular after winning the Ghana National Dance competition in 1988
• The late dancer has been eulogized by popular Ghanaian media personality, Mr. Kwasi Kyei Darkwa
Former Ghanaian National Dance Champion, Alex Ofori, has reportedly passed on.
The late Alex Ofori who shot to fame after winning the Ghana National Dance competition in 1988, has worked with the likes of Slim Buster, who won the championship in 1987, Ebenezer Ako Nai who also won in 1987, Terry Ofosu Bright, aka Sir Robot who won in 1989 and Reggie Rockstone among others.
Announcing his demise on Facebook on June 16, 2021, veteran broadcaster Kwesi Kyei Darkwa (KKD) stated that the dance champion brought so much excitement and joy to Ghanaians whenever he got on a stage or dance floor.
He also eulogized him paving the way for new dance talents the country currently possesses.
"Rest in peace ALEX OFORI, Former National Dance Champion- Great Embassy Double Do, Dancer-Choreographer & Fashion Model. You brought so much excitement & joy to our motherland wherever you got on a stage or dance floor. With the likes of World Dance Champion Adjetey Sowah, unique breakdancer Reginald Osei aka Reggie Rockstone, Show dancers Firekiller, Como Basto, Carlos Alberto, Tee Pee & many enthusiastic young talents of the 80s & 90s, you helped turn what was your passion into a mainstay of live shows & television entertainment. Today, those talents you shared with the world just for fun, your labor of love has become a popular profession."
"You & your colleagues paved the way for the talent we enjoy in dance choreography at national events & in numerous music videos. Life: How unpredictable you are. & how fragile we are," he wrote on Facebook.
It can be recalled that the late Alex Ofori once represented Ghana at the World Dance Championship series at the London Hippodrome.
Read the post below:
Source: www.ghanaweb.com
VIDEO: Kennedy Agyapong celebrates 61st birthday in Dubai with his 16 daughters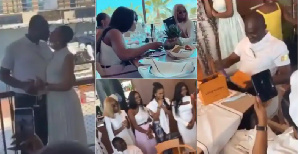 • The Assin Central MP was swamped by his beautiful daughters at his 61st birthday party in Dubai
• Kennedy Agyapong turned 61 on June 16, 2021
• The lawmaker received and unwrapped some expensive gifts from his children
Assin Central MP, Kennedy Ohene Agyapong, joined his daughters in Dubai to celebrate his 61st birthday on June 16, 2021.
In a video making rounds on social media, the outspoken lawmaker was captured in a plush restaurant, swamped by his beautiful daughters and wife.
With the exception of Arnell, who is alleged to have been 'disowned' by Mr. Agyapong, the rest of his 16 beautiful daughters were seen seated at a dinner table with their father having a nice time.
Beaming with smiles, Mr. Agyapong one-by-one unwrapped the gifts presented to him by his children.
The all-white birthday party was climaxed with a kiss from his wife.
Watch the video below:
Source: www.ghanaweb.com
One shot as sand winners clash with Okyeman taskforce at Adeiso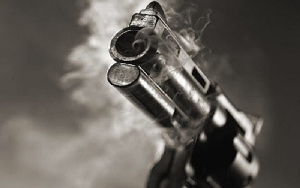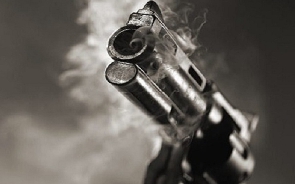 One person has been shot in a clash between the Okyeman Environmental Protection task force and sand winners at Adeiso in the West Akyem Municipality in the Eastern region.
The task force stormed the Tank Akuraa community near Adeiso, arrested and handcuffed one Osae Kwame, a sand winner and threw him into a Nissan Pick Up but were pursued by the youth who rescued him.
Later the taskforce members attacked Summertide sand winning Company site at Obeng Yaw village, also near Adeiso, amidst the firing of guns and arrested five workers and shot one other.
Armed police responded to the distress calls about the incidents but the Taskforce failed to stop when signalled by Police.
They were given a hot chase but to no avail.
Information spread through the Communities leading to the youth mounting roadblocks and attacked the task force.
Sensing danger Okyeman Mponuahene, Barima Twum Tabriade and Okyeman Akwansrahene went to the Adeiso police station to seek refuge in a Jeep Patriot SUV with registration number GS9835-19 which had three tyres deflated.
The angry youth and sand winners massed up at the Police station seeking the release of the two chiefs for instant justice.
Due to the tension, Adeiso District Police command called on the Divisional Command for reinforcement to contain the situation.
A search in the Jeep SUV which belongs to Akwansrahene, Baffour Sarpong, contained one AK 47 assault rifle with 3 magazines and 7 Pump-action cartilages.
The five (5 ) suspects including the two chiefs were whisked to Asamankese Divisional Headquarters by the reinforcement team where they were granted Police enquiry bail.
The Public Relations Officer of the Eastern Regional Police Command, DSP Ebenezer Tetteh confirmed the incident.
He said the Regional Police Command has dispatched a team to the troubled area to help resolve the matter to restore calm.
Okyeman Environmental Protection Taskforce was formed over a decade ago to fight against illegal mining, illegal sand winning and illegal chainsawing.
Source: starrfm.com.gh