Federation of International Football Association (FIFA) has asked the Government of Ghana to put in place an interim measures that will allow continuation of football activities in the country as both  had a fruitful deliberation with government officials at the offices of the Ministry of Sports on Friday.
In a joint statement issued and signed by  FIFA delegation led by its new Director of Development for Africa and the Caribbean Veron Mosengo-Omba and Information,  Minister Mustapha Hamid said  the Ghanaian government has the right the enforce its national laws against criminal conducts and illegality.
The Government of Ghana, led by Mr. Isaac Kwame Asiamah, Minister for Youth and Sports and the Federation of International Football Association (FIFA), on Friday, June 22, held a meeting to discuss the current condition of the Ghana Football Association (GFA), after the a recent documentary by Anas Aremeyaw Anas on bribery and corruption in Ghana football.
The meeting, which was to find possible solutions to the current happenings in Ghana football, after a court injunction was placed on all football related activities, had in attendance from FIFA, Mr Veron Mosengo Omba, FIFA's new Director of Development for Africa and the Caribbean, Mr. Hamidu Zibrela – President of Niger Football Federation and Mr Solomon Modegbe.
The government on the hand was led by Mr. Asiamah, with Dr. Mustpha Ahmed, Minister for Information, Mr. Samuel Abu Jinapor, Deputy Chief of Staff, Godfred Yeboah Dame, Deputy Attorney General and Minister of Justice.
A five-member committee was set-up by the government to replace the Ghana Football Association after investigative journalist Anas Aremeyaw Anas exposé caught several members of the FA allegedly collecting bribes on tape.
Government was therefore compelled to suspend all activities of the Football Association as well as barring its officials from undertaking any duty at the offices of the FA to enable further investigations into the matter.
However, the government's decision seemed to have ruptured FIFA's rules hence prompting Jean Infantino's administration to send a delegation to help resolve matters.
The meeting was held between FIFA and government officials without representatives from the GFA.
Read the full statement below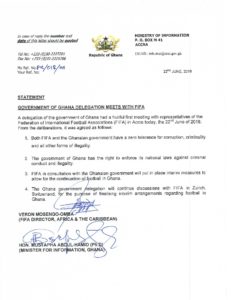 Source:  Ghana/otecfmghana.com