Gallant Croatia tear Messi, Argentina to shreds
Gallant Croatia trampled on a tactically bankrupt Argentinean side, pummeled them to a 3-0 defeat and won a ticket into the knockout stages of the World Cup with a match to spare in Group D.
A stupendous volley by Rebic after a horrible howler by Caballero in the second half opened the floodgates for a Messi night of misery and an Argentina day of agony.
But when the small midfield general led by example with a beautiful strike deep in the game, Modric showed his opposite number how to lead, how to score when it matters most.
For a team tipped to win its first World Cup in 32 years, Argentina was left completely embarrassed when Rakitic virtually walked the ball into the empty Argentina net for the third goal with Cabellero nowhere to be found and Messi looking lost and playing with his beard in despair.
The scoreline looks a little flattery but the game was not. It was war. A great Group D battle had turned into a war of heavyweights from beginning to the end. Tackles flew in from all angles, crunchy tackles and silly ones, including that from Otamendi. How the Manchester City man ended up playing the entire duration of the game will beat the imagination of even the uninitiated.
The game was so fiery and emotive that skill and trickery no longer were arsenals in football. They were an invitation to injury. Messi's arsenal had been taken away and left with many unproductive runs. But when the going gets tough, the tough get going. Modric proved tougher on the night and with skill he led his team to victory from midfield in an unbelievable night of football.
Croatia had never lost their second game in a World Cup but never had a good start in 20 years either and so when they beat Nigeria in the group's opening game, their indomitable second game 'myth' was under threat and rightly so because they were up against an angry Argentina side who were kept quiet in a depressing one all draw by debutant- Iceland.
Many had tipped Argentina to win the World Cup, notwithstanding their poor start but if it was Messi's time to add that single most important trophy lacking in his rich trophy cabinet then tonight should have been his turning point.
It was his turning point but for the worse; a dogged night of shame, not just for the little giant in world football, but for a country that has produced the best in the game, one of whom-Maradona- watched from the stands blew kisses in the beginning and but left in tears in the end.
The Albiceleste had to win and they came with a switch in personnel and strategy for the game but it was the Croats who nearly opened scoring in four minutes.
Perisic almost created something out of nothing when he latched onto a loose ball from midfield, made a rampaging run into the Argentine half and forced a superb fingertip save from Wilfredo Caballero with his left foot strike.
Modric, small in stature but imposing on the field, quickly, established his presence by initiating all the attacks for the Croats in midfield.
It was the European side who were more threatening from the beginning until Meza's clever little chip to Messi in 11 minutes gave the South American side their first real attack. Messi needed an inch after he stretched at full length hoping to at least get a toe touch of gold but that eluded him.
A minute later it was Levron's vital block which prevented an Argentina goal after Meza had struck from close range.
It was a close game, one with many foes and friends all in-between. Messi has been a foe to Modric and a friend to Rakitic at club level and when his friend joined forces with his foe, Messi was left depressed for the most part.
Argentina was not only struggling in attack, they were woeful in defence at some point too. As if to give a hint of what he would later do in the game, Caballero gave an awkward pass which Mandzukic nearly capitalized for the opener but the Juventus man fouled the last man in his attempt at goal.
In the 29th minute, Perez missed the most glorious opportunity for the South American side, when with an empty net he still found the side of the post worthier than inside it. Of course, he had few Croatian men lurking as the last line of defence but the Croatian goalkeeper was nowhere to be found and with a gaping goal begging, Perez could have done better.
If one thought Perez' miss was criminal, then Madzukic missed header two minutes later was worse. His run from the back was sumptuous, the delivery from Rakitic was superb but with only Caballero to beat, Madzukic failed to direct his header.
Perisic had the last kick of the half and it should have been a goal. It was a sweet build up on a right; the immaculate pass from Modric to find Perisic on the left was legendary but the Inter man was selfish and wasteful in the end. He had Madzukic calling, gesturing with only Cabellero to beat but the Inter man went for goal and skied the ball miles away from the post into the crowd.
With a barren first half it had to take something extra, special or foolish for goals to be recorded in the second and all of those were on display.
In 53 minutes, Caballero was under pressure from Rebic and instead of clearing his lines to safety, he settled on a foolish option- to lift the ball above the head of the attacker. It was a suicide option and he paid for it. Rebic capped his effort with an overhead volley for a well-deserved opener.
Argentina was down even before the game started but they were now down and wounded. Messi needed a Hail Mary.  He tried. His best chance came in 62 minutes but he missed from close range, an acute angle too difficult to score when Subasic had covered well.
Argentina pushed more men into attack in a desperate search for a leveler but that left them exposed and they were punished again for it.
In the 82nd minute, Modric appeared to have over-elaborated in the final third and just when it appeared he had wasted the opportunity to put the game beyond the reach of Argentina, he did the unthinkable. The man known to pass with the outside of his foot, curled a lovely little one, with the inside and left Messi, Maradona, Argentina stunned and shredded.
It was no coming back. The game had become intemperate but the referee was far too lenient. Ravshan Ermatov should have given Otamendi a straight red when he decided to kick the ball against Rakitic's head at close range with all malice intended.
As if to pay him back for his wickedness, the Barcelona enforcer showed Otamendi how it is done in a decent way when he scored the final goal to end the night of horror and humiliation for Argentina.
The South American side are now on the brink of a first round exit if Iceland should beat Nigeria in the Group D's second game on Friday.
Source: Ghana|Myjoyonline.com|

Former Ghanaian dance champion Alex Ofori passes on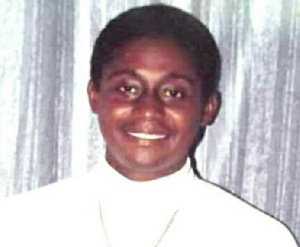 •The late Alex Ofori was a choreographer and a fashion model
• He became much popular after winning the Ghana National Dance competition in 1988
• The late dancer has been eulogized by popular Ghanaian media personality, Mr. Kwasi Kyei Darkwa
Former Ghanaian National Dance Champion, Alex Ofori, has reportedly passed on.
The late Alex Ofori who shot to fame after winning the Ghana National Dance competition in 1988, has worked with the likes of Slim Buster, who won the championship in 1987, Ebenezer Ako Nai who also won in 1987, Terry Ofosu Bright, aka Sir Robot who won in 1989 and Reggie Rockstone among others.
Announcing his demise on Facebook on June 16, 2021, veteran broadcaster Kwesi Kyei Darkwa (KKD) stated that the dance champion brought so much excitement and joy to Ghanaians whenever he got on a stage or dance floor.
He also eulogized him paving the way for new dance talents the country currently possesses.
"Rest in peace ALEX OFORI, Former National Dance Champion- Great Embassy Double Do, Dancer-Choreographer & Fashion Model. You brought so much excitement & joy to our motherland wherever you got on a stage or dance floor. With the likes of World Dance Champion Adjetey Sowah, unique breakdancer Reginald Osei aka Reggie Rockstone, Show dancers Firekiller, Como Basto, Carlos Alberto, Tee Pee & many enthusiastic young talents of the 80s & 90s, you helped turn what was your passion into a mainstay of live shows & television entertainment. Today, those talents you shared with the world just for fun, your labor of love has become a popular profession."
"You & your colleagues paved the way for the talent we enjoy in dance choreography at national events & in numerous music videos. Life: How unpredictable you are. & how fragile we are," he wrote on Facebook.
It can be recalled that the late Alex Ofori once represented Ghana at the World Dance Championship series at the London Hippodrome.
Read the post below:
Source: www.ghanaweb.com
VIDEO: Kennedy Agyapong celebrates 61st birthday in Dubai with his 16 daughters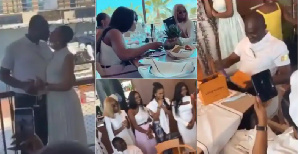 • The Assin Central MP was swamped by his beautiful daughters at his 61st birthday party in Dubai
• Kennedy Agyapong turned 61 on June 16, 2021
• The lawmaker received and unwrapped some expensive gifts from his children
Assin Central MP, Kennedy Ohene Agyapong, joined his daughters in Dubai to celebrate his 61st birthday on June 16, 2021.
In a video making rounds on social media, the outspoken lawmaker was captured in a plush restaurant, swamped by his beautiful daughters and wife.
With the exception of Arnell, who is alleged to have been 'disowned' by Mr. Agyapong, the rest of his 16 beautiful daughters were seen seated at a dinner table with their father having a nice time.
Beaming with smiles, Mr. Agyapong one-by-one unwrapped the gifts presented to him by his children.
The all-white birthday party was climaxed with a kiss from his wife.
Watch the video below:
Source: www.ghanaweb.com
One shot as sand winners clash with Okyeman taskforce at Adeiso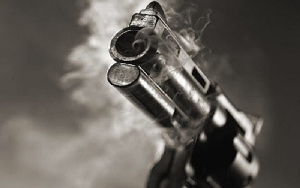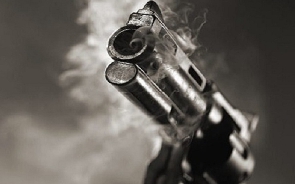 One person has been shot in a clash between the Okyeman Environmental Protection task force and sand winners at Adeiso in the West Akyem Municipality in the Eastern region.
The task force stormed the Tank Akuraa community near Adeiso, arrested and handcuffed one Osae Kwame, a sand winner and threw him into a Nissan Pick Up but were pursued by the youth who rescued him.
Later the taskforce members attacked Summertide sand winning Company site at Obeng Yaw village, also near Adeiso, amidst the firing of guns and arrested five workers and shot one other.
Armed police responded to the distress calls about the incidents but the Taskforce failed to stop when signalled by Police.
They were given a hot chase but to no avail.
Information spread through the Communities leading to the youth mounting roadblocks and attacked the task force.
Sensing danger Okyeman Mponuahene, Barima Twum Tabriade and Okyeman Akwansrahene went to the Adeiso police station to seek refuge in a Jeep Patriot SUV with registration number GS9835-19 which had three tyres deflated.
The angry youth and sand winners massed up at the Police station seeking the release of the two chiefs for instant justice.
Due to the tension, Adeiso District Police command called on the Divisional Command for reinforcement to contain the situation.
A search in the Jeep SUV which belongs to Akwansrahene, Baffour Sarpong, contained one AK 47 assault rifle with 3 magazines and 7 Pump-action cartilages.
The five (5 ) suspects including the two chiefs were whisked to Asamankese Divisional Headquarters by the reinforcement team where they were granted Police enquiry bail.
The Public Relations Officer of the Eastern Regional Police Command, DSP Ebenezer Tetteh confirmed the incident.
He said the Regional Police Command has dispatched a team to the troubled area to help resolve the matter to restore calm.
Okyeman Environmental Protection Taskforce was formed over a decade ago to fight against illegal mining, illegal sand winning and illegal chainsawing.
Source: starrfm.com.gh