Policeman involved in land fraud gains bail
An Accra circuit court has granted Gabriel Teye Nartey, a Police General Lance Corporal bail in the sum of GH¢100,000 with three sureties for allegedly defrauding 3 persons under pretext of securing them lands.
The three are an auditor, an accountant and another Ghanaian living in the United States
The court directed that one of the sureties should be a public servant earning not less than GH¢1,000 per month.
He should also make a security deposit of GH¢15,000 Gabriel Teye Nartey pleaded not guilty to fraudulent transaction of land and he is to re-appear on June 26.
Police Chief Inspector Maxwell Oppong told the Court presided over by Mr Emmanuel Essandoh that the prosecution witnesses; Samuel Lincoln Terkper, auditor, Patrick Amoako, accountant and Aidoo, are residents of Tabora, Agbogba and Dansoman, respectively in the Greater Accra region.
Nartey is a Police officer, stationed at the Dansoman Motor Traffic and Transport Department (MTTD) also in Accra.
The Prosecution said between March and April, 2017, Terpker met Nartey at Adenta and introduced himself as a policeman who deals in plots of land.
Terkper expressed interest and Nartey sold a piece of land to him at GH¢28,000.00.
Amoako was also introduced to Nartey and later he also bought a plot of land at GH¢35,000.00 and paid an advance of GH¢20,000.00, in addition to a Peugeot saloon car valued GH¢15,000.00 as final payment. The Prosecution said after taking the money, Nartey failed to produce them with documents covering the lands and went into hiding.
Terkper and Amoako visited the said lands but were shocked to know that the lands do not belong to Nartey. Prosecution said Terkper who made checks with the Land Commission, discovered that the said land belonged to one Pearl Aku Atiemo.
On May 16, this year, the two went to the Greater Accra Regional Police Headquarters to lodge a formal complaint and Nartey was arrested.
Aidoo on June 8, upon hearing of Nartey's arrest, also made a report that the accused who was a church member contacted he Aidoo's father through Facebook that he was selling a land at GH¢35,000 and he showed interest.
The prosecution said and amount of GH¢19,000.00 was given to Nartey through his son called Jimmy as part payment on March 7, this year and a receipt was issued to that effect with the promise to pay the rest after the necessary checks on the said land located at Oyarifa has been made.
The Prosecution said, Nartey went into hiding after taking the money until his arrest.
Chief Inspector Oppong said Nartey admitted the offence in his caution statement and said that he also bought the land from someone he only named as Eric and Akpor Mensah but could not produce documents on that score
Source: ghananewsagency.org

One shot as sand winners clash with Okyeman taskforce at Adeiso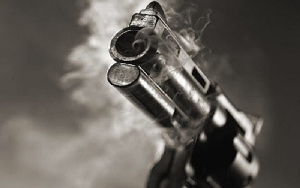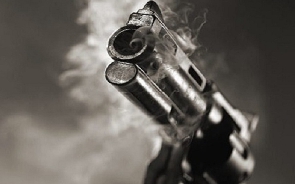 One person has been shot in a clash between the Okyeman Environmental Protection task force and sand winners at Adeiso in the West Akyem Municipality in the Eastern region.
The task force stormed the Tank Akuraa community near Adeiso, arrested and handcuffed one Osae Kwame, a sand winner and threw him into a Nissan Pick Up but were pursued by the youth who rescued him.
Later the taskforce members attacked Summertide sand winning Company site at Obeng Yaw village, also near Adeiso, amidst the firing of guns and arrested five workers and shot one other.
Armed police responded to the distress calls about the incidents but the Taskforce failed to stop when signalled by Police.
They were given a hot chase but to no avail.
Information spread through the Communities leading to the youth mounting roadblocks and attacked the task force.
Sensing danger Okyeman Mponuahene, Barima Twum Tabriade and Okyeman Akwansrahene went to the Adeiso police station to seek refuge in a Jeep Patriot SUV with registration number GS9835-19 which had three tyres deflated.
The angry youth and sand winners massed up at the Police station seeking the release of the two chiefs for instant justice.
Due to the tension, Adeiso District Police command called on the Divisional Command for reinforcement to contain the situation.
A search in the Jeep SUV which belongs to Akwansrahene, Baffour Sarpong, contained one AK 47 assault rifle with 3 magazines and 7 Pump-action cartilages.
The five (5 ) suspects including the two chiefs were whisked to Asamankese Divisional Headquarters by the reinforcement team where they were granted Police enquiry bail.
The Public Relations Officer of the Eastern Regional Police Command, DSP Ebenezer Tetteh confirmed the incident.
He said the Regional Police Command has dispatched a team to the troubled area to help resolve the matter to restore calm.
Okyeman Environmental Protection Taskforce was formed over a decade ago to fight against illegal mining, illegal sand winning and illegal chainsawing.
Source: starrfm.com.gh
Armed robbers attack another bullion van on Accra-Winneba road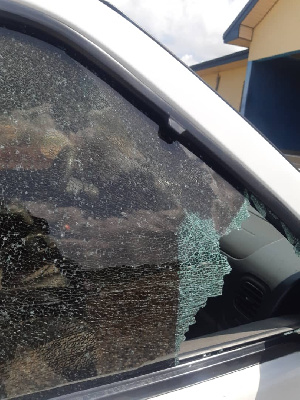 •Armed robbers have attacked another bullion van on Accra-Winneba road
•A quick response of the Winneba Police Command has prevented the robbers from have a successful operation
•All passengers in the bullion van escaped unscathed and no property was stolen
The police in the Central region saved the day as armed robbers attacked a bullion van with registration number GN 6956-17 on Accra-Winneba road on Thursday, June 17, 2021.
The van which was attacked at Okyereko on the Winneba-Accra road was targeted by some armed men whose identities are unknown.
The robbers fired shots at the front passenger seat where the police escort sat. These shots ended up shattering the window area.
According to reports, the police escort ordered the driver to speed off upon observing the unusual movement of the robbers, while he called for reinforcement.
The Winneba Patrol team dispatched to Mpata Junction, rushed to the scene and started a gun battle with the robbers, overpowering them in the process.
All passengers in the bullion van escaped unharmed and no property was stolen.
The van has been sent to Winneber Police Custody for investigation.
This development comes after armed robbers shot to death, a police officer and an eyewitness, during a robbery incident involving a bullion van at Adedenkpo, a suburb of James Town in Accra, Monday, June 14.
Below are some tweets on the attack;
Source: www.ghanaweb.com
British Airways rows back plan to switch Accra flights to Gatwick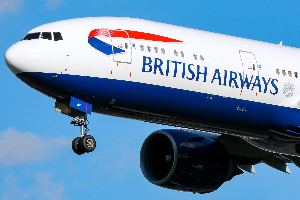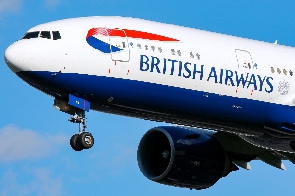 • British Airways rescinds decision to move Accra flights to Gatwick airport
•This came as a result of huge opposition from the Ghana government
• Passengers on the Accra – London route will land at Heathrow Airport
British Airways has bowed to pressure from the government of Ghana and rowed back on a plan to switch Accra flights from Heathrow to Gatwick.
Speaking to Citi Business News, the Public Relations Officer for the Ghana Civil Aviation Authority (GCAA), Eric Mireku Amaning, said Accra will continue to operate from the London Heathrow Airport from the IATA Winter 2021 Season.
This means passengers on the Accra-London route will land at Heathrow Airport instead of Gatwick Airport.
"Finally, the British Airways last week wrote to the Minister [of Transport] informing him that they have reconsidered their decision to move Accra flights to Gatwick. So our final destination will be Heathrow Airport and not Gatwick. So I think that the Minister of Transport did a yeoman's job, and we need to commend him for that," Eric Mireku Amaning added in an interview with Citi Business News.
"We've received great assurances from British Airways that we are not going to face this situation again and that Heathrow will continue to be our final destination if we're travelling from Accra to London," he added.
British Airways announced moving Ghana operations from the London Heathrow Airport to London Gatwick Airport.
When BA revealed its intention to shift the route from its main London hub to the Gatwick airport, Ghana's Ministry of Aviation called the decision "unacceptable". It threatened to reciprocate by forcing the airline to use an airport 100 miles from Accra.
Like Heathrow, Accra's Kotoka International Airport was a Second World War RAF base that became a civilian facility in 1946.
Virgin Atlantic shared the Heathrow-Accra route with BA until 2013 when it pulled out blaming "exceptionally high fuel costs" at the West African airport.
Source: www.ghanaweb.com