The President of Breast Care International (BCI), Dr. Mrs. Beatrice Wiafe Addai has appealed to President Nana Akufo Addo and his government to fulfill their campaign promises of abolishing import taxes imposed on donated drugs meant for free distribution in Ghana.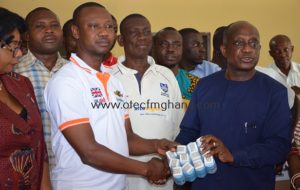 She said the huge amount of taxes levied on the drugs, which are to be distributed freely to health facilities in the country, and challenges encountered at the port harbour sometimes discourage them from ordering the drugs, a situation she believed has serious consequences in the health delivery system in the country.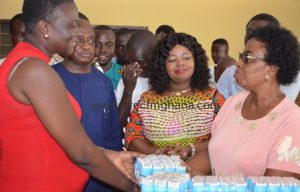 Dr. Wiafe Addai, who is also the Chief Executive Officer (CEO) of Peace and Love Hospitals in Kumasi and Accra, made the appeal at the premises of Peace and Love hospital at Oduom, Kumasi, on Wednesday, June 13, 2018, during a distribution of life saving drugs to twenty-one health facilities in the deprived communities across the country.
The drugs, which included medicines for Cancers, Psychiatric, Parkinson, Diabetes, Peptic Ulcer, Antibiotics, Pain Killers, Infusions among several others were donated to Breast Care International (BCI)by their USA based donor partner, Direct Relief Inc., which worth $6 Million USD.
"Our donor partner, Direct Relief, is willing to donate drugs to us every month so that we too can distribute to the health institutions in the deprived areas where they are needed mostly to improve the health care of the people. But the challenges associated with clearing of these drugs, not to talk about the huge amount of taxes we pay, are so frustrating that sometimes we regret asking for them, drugs that we give out freely, can you imagine?" she bitterly complained.
"I therefore humbly appeal to Nana Addo and his government to critically look at the taxes on the imported drugs because these drugs are to be given to the health facilities free of charge, according to a sworn promise made to Direct Relief that the drugs will not be sold in Ghana here. We (BCI) even take full responsibility of the transportation expenses because that is what BCI and PLH have taken upon ourselves to the support the government to improve the health delivery system in the country," she passionately appealed to the government.
The Ashanti Regional Minister, Hon. Simon Osei Mensah,who has associated himself with calls for a concerted effort to fight off cancers, praised the leadership of the three organizations for their commitment to sustain campaign against the spread of breast cancer and other non- communicable diseases.
He also appealed to the beneficiaries not to sell the drugs to patients as they were given to them freely and warned that those found to go contrary will be arrested and prosecuted.
Representatives from the various health care institutions who benefitted from the donation promised to put the drugs to optimum use and recalled the enormity of assistance to previous beneficiaries.
Source: otecfmghana.com