This heroine saved an accident victim everyone ignored
Celebrity stylist and TV host, Karen Kane, on Monday, 4 June 2018 saved a woman who had been knocked down by a vehicle around East Legon in Accra, and left for dead.
Narrating the incident to sit-in host of the Executive Breakfast Show (EBS), Benjamin Akakpo on Class91.3Fm on Tuesday, 12 June, Karen Kane said she was driving to work on Monday morning from East Legon towards the tunnel on the newly-constructed road when she realised there was traffic due to an accident.
Karen said she saw ahead of her a blood-stained woman lying on the road with people surrounding her but all attempts by eyewitnesses and passers-by to get a vehicle to transport the injured woman to the hospital failed, as no driver was willing to be a Good Samaritan that day.
Two men, she said, approached her car and begged her to transport the victim to the hospital, and, so, she did though she was petrified.
She recounted: "I was like stunned, shocked, afraid and at that moment I couldn't say no, trust me, I don't know what would have happened to me if I had just driven past and said no."
After forcing the victim into the backseat of her Hyundai i10 car, another Good Samaritan got into her car and asked her to drive to a private hospital nearby called Health Link where she started screaming for help.
Karen said she was so disappointed at the lethargic attitude of doctor after doctor who came out just to satisfy their curiosity rather than administer emergency first aid or some form of treatment to the victim. The health workers there, she said, later informed them that the hospital was incapable of handling such a case and advised her to go to a bigger hospital. The hospital, however, revealed they could help treat her wounds to stop her from losing any more blood.
The celebrity stylist said in the process, she spotted an ambulance so she requested that it be used to ferry the victim to the 37 Military Hospital while she is given first aid but was told that there was a procedure to follow before the ambulance could be used.
She recounted: "You know what, there's an ambulance at your entrance, we see the driver sitting in the ambulance, looks like an ambulance that's ready to be called, can you help put her in this ambulance and take her because it will be faster and maybe even first aid could be administered in the ambulance and it was a bit like, someone said it's not in my power to do so, another doctor said there's a procedure to follow."
After twenty minutes without receiving any proper help, they had no choice but to transport the victim again in her car to the Military Hospital with her hazard lights but other drivers on the road could not care less. The drivers seemed unperturbed, Karen said, "Obviously because people had abused the use of car horns" and would not allow her car to pass till the other Good Samaritan got down to knock on the windows of other cars just to plead with the drivers to allow them to squeeze through the traffic.
She bemoaned the use of car horns by drivers for the wrong reasons to the point that the use of the horns has virtually lost its essence as drivers turn to see it as normal and not make way for vehicles in serious circumstances.
"People don't care anymore as to whether it's an emergency or not because this thing's been happening so much that people can't be bothered anymore, when an ordinary car has its hazard on and it's honking people don't want to move anymore and I figured out that this thing has become so normal that people think it's just another person who doesn't want to stay in traffic, so, they turn their hazards on, so let's not budge."
Karen said at the 37 Military hospital, the health workers did not attach any sense of urgency to the accident victim as they perceived it as a normal situation even though she had told them the victim had a fracture. She said they brought a wheelchair to fetch the victim inside but went back to get a stretcher after realising she could not be wheel-chaired and it took about five to ten minutes to get the victim out of her car.
"They've probably seen this over and over again, so there wasn't any expression of emergency on their faces."
The hospital also demanded for a deposit to be paid in order to admit the victim, a situation Karen said she found outrageous because there was no way a helpless woman would run away in that condition.
She stated: "This is probably a woman who will not even be able to run away."
The other Good Samaritan, she continued, had to use his ATM card to cash out some money to make the deposit before the victim was given further treatment.
An obviously frustrated Karen lamented the lapses in Ghana's health system such as lack of ambulances to transport accident victims and patients and the seeming lackadaisical attitude of health workers.
She also said drivers are usually petrified to help such accident victims for fear of ending up in court or in prison and called on stakeholders in the healthcare system to provide ambulances.
She reckoned the victim had crossed the road earlier with her 2-year-old son only to realise her son had dropped his slippers. She left her son on the side of the road to go get the slippers from the middle of the road when she was knocked down by a van that sped off after the accident.
Source: classfmonline.com

Former Ghanaian dance champion Alex Ofori passes on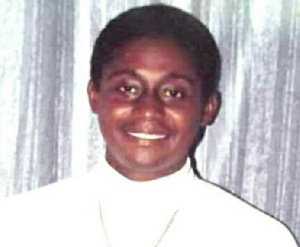 •The late Alex Ofori was a choreographer and a fashion model
• He became much popular after winning the Ghana National Dance competition in 1988
• The late dancer has been eulogized by popular Ghanaian media personality, Mr. Kwasi Kyei Darkwa
Former Ghanaian National Dance Champion, Alex Ofori, has reportedly passed on.
The late Alex Ofori who shot to fame after winning the Ghana National Dance competition in 1988, has worked with the likes of Slim Buster, who won the championship in 1987, Ebenezer Ako Nai who also won in 1987, Terry Ofosu Bright, aka Sir Robot who won in 1989 and Reggie Rockstone among others.
Announcing his demise on Facebook on June 16, 2021, veteran broadcaster Kwesi Kyei Darkwa (KKD) stated that the dance champion brought so much excitement and joy to Ghanaians whenever he got on a stage or dance floor.
He also eulogized him paving the way for new dance talents the country currently possesses.
"Rest in peace ALEX OFORI, Former National Dance Champion- Great Embassy Double Do, Dancer-Choreographer & Fashion Model. You brought so much excitement & joy to our motherland wherever you got on a stage or dance floor. With the likes of World Dance Champion Adjetey Sowah, unique breakdancer Reginald Osei aka Reggie Rockstone, Show dancers Firekiller, Como Basto, Carlos Alberto, Tee Pee & many enthusiastic young talents of the 80s & 90s, you helped turn what was your passion into a mainstay of live shows & television entertainment. Today, those talents you shared with the world just for fun, your labor of love has become a popular profession."
"You & your colleagues paved the way for the talent we enjoy in dance choreography at national events & in numerous music videos. Life: How unpredictable you are. & how fragile we are," he wrote on Facebook.
It can be recalled that the late Alex Ofori once represented Ghana at the World Dance Championship series at the London Hippodrome.
Read the post below:
Source: www.ghanaweb.com
VIDEO: Kennedy Agyapong celebrates 61st birthday in Dubai with his 16 daughters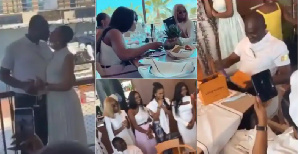 • The Assin Central MP was swamped by his beautiful daughters at his 61st birthday party in Dubai
• Kennedy Agyapong turned 61 on June 16, 2021
• The lawmaker received and unwrapped some expensive gifts from his children
Assin Central MP, Kennedy Ohene Agyapong, joined his daughters in Dubai to celebrate his 61st birthday on June 16, 2021.
In a video making rounds on social media, the outspoken lawmaker was captured in a plush restaurant, swamped by his beautiful daughters and wife.
With the exception of Arnell, who is alleged to have been 'disowned' by Mr. Agyapong, the rest of his 16 beautiful daughters were seen seated at a dinner table with their father having a nice time.
Beaming with smiles, Mr. Agyapong one-by-one unwrapped the gifts presented to him by his children.
The all-white birthday party was climaxed with a kiss from his wife.
Watch the video below:
Source: www.ghanaweb.com
One shot as sand winners clash with Okyeman taskforce at Adeiso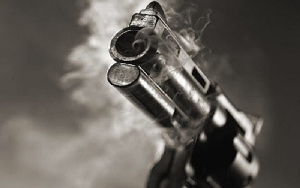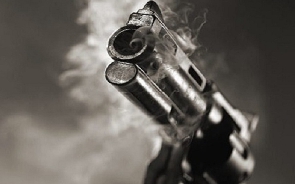 One person has been shot in a clash between the Okyeman Environmental Protection task force and sand winners at Adeiso in the West Akyem Municipality in the Eastern region.
The task force stormed the Tank Akuraa community near Adeiso, arrested and handcuffed one Osae Kwame, a sand winner and threw him into a Nissan Pick Up but were pursued by the youth who rescued him.
Later the taskforce members attacked Summertide sand winning Company site at Obeng Yaw village, also near Adeiso, amidst the firing of guns and arrested five workers and shot one other.
Armed police responded to the distress calls about the incidents but the Taskforce failed to stop when signalled by Police.
They were given a hot chase but to no avail.
Information spread through the Communities leading to the youth mounting roadblocks and attacked the task force.
Sensing danger Okyeman Mponuahene, Barima Twum Tabriade and Okyeman Akwansrahene went to the Adeiso police station to seek refuge in a Jeep Patriot SUV with registration number GS9835-19 which had three tyres deflated.
The angry youth and sand winners massed up at the Police station seeking the release of the two chiefs for instant justice.
Due to the tension, Adeiso District Police command called on the Divisional Command for reinforcement to contain the situation.
A search in the Jeep SUV which belongs to Akwansrahene, Baffour Sarpong, contained one AK 47 assault rifle with 3 magazines and 7 Pump-action cartilages.
The five (5 ) suspects including the two chiefs were whisked to Asamankese Divisional Headquarters by the reinforcement team where they were granted Police enquiry bail.
The Public Relations Officer of the Eastern Regional Police Command, DSP Ebenezer Tetteh confirmed the incident.
He said the Regional Police Command has dispatched a team to the troubled area to help resolve the matter to restore calm.
Okyeman Environmental Protection Taskforce was formed over a decade ago to fight against illegal mining, illegal sand winning and illegal chainsawing.
Source: starrfm.com.gh