#OnlyThisMuch: New alliance for greater care of SA's oceans pushes for 10% protection by 2020
There's no doubt that all forms of life need to be protected and sustainably managed to ensure its perseverance.
Therefore, when it was revealed that only 0.4% of South Africa's ocean regions are currently being protected, there was great cause for concern.
Following a World Oceans Day event hosted by Wildoceans and the South African Institute of International Affairs (SAIIA) on 8 June at Ushaka Marine World, a coalition of organisations was launched with the aim of advancing greater protection of South Africa's oceans.
SEE: #WorldOceanDay: 0.4% protection for SA oceans is just not enough
This new alliance of national and international organisations aims to build support for Marine Protected Areas (MPAs) by creating awareness of its value.
Dr Jean Harris of Wildoceans says that MPAs provide "ecosystem services, ocean risk mitigation, food security, ecotourism benefits, moderation of climate change, and improving resilience to impacts of other global stressors".
Harris adds that the coalition hopes "to gain strategic wins for marine conservation in African waters that will catalyse action across the region."
The coalition is funded by Oceans 5, Ocean Unite, WWF-SA, The Green Connection, Centre for Environmental Rights and the South African Association for Marine Biological Research (SAAMBR).
ALSO SEE: #EcoTravels: Cape Town businesses join way forward for clean oceans and climate change
Department of Environmental Affairs (DEA) Deputy Director General Judy Beaumont says that the DEA supports the coalition.
"We appreciate any work being done that profiles the many social, economic and environmental benefits of a dynamic and relevant MPA network. This communication is key to bridging the gaps between government departments, as well as civil society and conservation entities," says Beaumont.
'Only This Much'
According to the new coalition's #OnlyThisMuch campaign, we need to protect at least 30% of our oceans for long-term sustainable use.
The campaign has a goal of achieving 5% protection of South Africa's oceans within MPAs by 2019, and 10% by 2020.
Wildoceans' Lauren van Nijkerk says that the aim is to get African states to support a global target of 30% protection by 2030. Click here to join the campaign online.
DEA's Beaumont says that "The drive to achieve a 10% (and more) MPA target aligns with South Africa's National Development Plan outcomes and international commitments. We are all connected to the ocean in some way and therefore all have a responsibility to protect and preserve our oceans for future generations."
At the launch of the Only This Much campaign, aquarium displays were covered up with black cloth and revealed to illustrate the limited ocean protection we currently have in South Africa, and what the potential of the ocean is if that protection is expanded.
Photo: Supplied.
A global challenge
Alex Benkenstein of SAIIA, says that the fact that ocean protection is part of the Sustainable Development Goals highlights the global nature of the challenges and opportunities related to the ocean.
"For this reason, our Institute seeks to promote cooperative responses towards developing a truly sustainable Blue Economy, and a strong MPA network, both within South Africa and beyond our borders, is an essential component of that," says Benkenstein.
MUST-SEE: PICS: New plastic gobbling drone pilot project to see 'a plastic-free V&A Waterfront'
John Duncan, Senior Manager of the Marine Programme at WWF SA says that healthy oceans support an ocean economy, and therefore "We urgently need to scale up our MPA network to secure the underlying marine ecosystems which underpin economically and ecologically sustainable development."
Judy Mann, Conservation Strategist at SAAMBR, adds that only by working together will we be able to address the challenges facing our oceans.
Safeguarding natural heritage
Saul Roux, Legal Campaigner at the Centre for Environmental Rights, says that MPAs will safeguard our natural heritage and the ecosystems that support marine economy.
"More than two years ago the Minister of Environmental Affairs published notices and regulations, for public comment; for an ecologically representative network of 22 marine protected areas. These should be declared as a matter of urgency," says Roux.
"This will ensure South Africa is on track to meet our international obligations and will contribute to the realisation of our Constitutional right to have the environment protected for the benefit of present and future generations."
SEE: Tsitsikamma MPA re-opening: SA's fish stocks at risk say experts
Green Connections' Liz McDaid says that the organisation is part of the campaign to ensure that oceans are protected to provide livelihoods for future generations. "We support at least 30% MPA goal – and all of South Africa's affected stakeholders must be involved in such decisions," adds McDaid.
Karen Sack, Managing Director of Ocean Unite, adds that "Marine Reserves are the insurance policies we need to buy for our Ocean planet" to help build resilience to climate change, bring back marine life, secure food, water, and air supplies, and provide job security.
She says that SA's President and Cabinet must meet to exceed South Africa's international commitments to protect at least 10% of waters by 2020, to safeguard marine life for the benefit of all South Africans.
Source: Kavitha Pillay

Former Ghanaian dance champion Alex Ofori passes on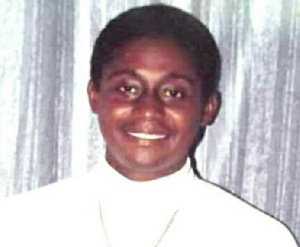 •The late Alex Ofori was a choreographer and a fashion model
• He became much popular after winning the Ghana National Dance competition in 1988
• The late dancer has been eulogized by popular Ghanaian media personality, Mr. Kwasi Kyei Darkwa
Former Ghanaian National Dance Champion, Alex Ofori, has reportedly passed on.
The late Alex Ofori who shot to fame after winning the Ghana National Dance competition in 1988, has worked with the likes of Slim Buster, who won the championship in 1987, Ebenezer Ako Nai who also won in 1987, Terry Ofosu Bright, aka Sir Robot who won in 1989 and Reggie Rockstone among others.
Announcing his demise on Facebook on June 16, 2021, veteran broadcaster Kwesi Kyei Darkwa (KKD) stated that the dance champion brought so much excitement and joy to Ghanaians whenever he got on a stage or dance floor.
He also eulogized him paving the way for new dance talents the country currently possesses.
"Rest in peace ALEX OFORI, Former National Dance Champion- Great Embassy Double Do, Dancer-Choreographer & Fashion Model. You brought so much excitement & joy to our motherland wherever you got on a stage or dance floor. With the likes of World Dance Champion Adjetey Sowah, unique breakdancer Reginald Osei aka Reggie Rockstone, Show dancers Firekiller, Como Basto, Carlos Alberto, Tee Pee & many enthusiastic young talents of the 80s & 90s, you helped turn what was your passion into a mainstay of live shows & television entertainment. Today, those talents you shared with the world just for fun, your labor of love has become a popular profession."
"You & your colleagues paved the way for the talent we enjoy in dance choreography at national events & in numerous music videos. Life: How unpredictable you are. & how fragile we are," he wrote on Facebook.
It can be recalled that the late Alex Ofori once represented Ghana at the World Dance Championship series at the London Hippodrome.
Read the post below:
Source: www.ghanaweb.com
VIDEO: Kennedy Agyapong celebrates 61st birthday in Dubai with his 16 daughters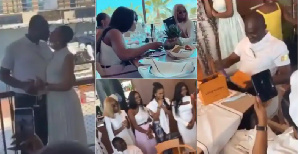 • The Assin Central MP was swamped by his beautiful daughters at his 61st birthday party in Dubai
• Kennedy Agyapong turned 61 on June 16, 2021
• The lawmaker received and unwrapped some expensive gifts from his children
Assin Central MP, Kennedy Ohene Agyapong, joined his daughters in Dubai to celebrate his 61st birthday on June 16, 2021.
In a video making rounds on social media, the outspoken lawmaker was captured in a plush restaurant, swamped by his beautiful daughters and wife.
With the exception of Arnell, who is alleged to have been 'disowned' by Mr. Agyapong, the rest of his 16 beautiful daughters were seen seated at a dinner table with their father having a nice time.
Beaming with smiles, Mr. Agyapong one-by-one unwrapped the gifts presented to him by his children.
The all-white birthday party was climaxed with a kiss from his wife.
Watch the video below:
Source: www.ghanaweb.com
One shot as sand winners clash with Okyeman taskforce at Adeiso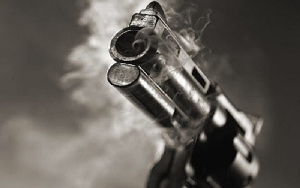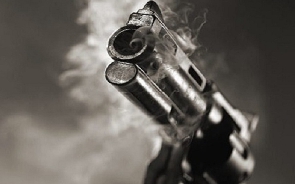 One person has been shot in a clash between the Okyeman Environmental Protection task force and sand winners at Adeiso in the West Akyem Municipality in the Eastern region.
The task force stormed the Tank Akuraa community near Adeiso, arrested and handcuffed one Osae Kwame, a sand winner and threw him into a Nissan Pick Up but were pursued by the youth who rescued him.
Later the taskforce members attacked Summertide sand winning Company site at Obeng Yaw village, also near Adeiso, amidst the firing of guns and arrested five workers and shot one other.
Armed police responded to the distress calls about the incidents but the Taskforce failed to stop when signalled by Police.
They were given a hot chase but to no avail.
Information spread through the Communities leading to the youth mounting roadblocks and attacked the task force.
Sensing danger Okyeman Mponuahene, Barima Twum Tabriade and Okyeman Akwansrahene went to the Adeiso police station to seek refuge in a Jeep Patriot SUV with registration number GS9835-19 which had three tyres deflated.
The angry youth and sand winners massed up at the Police station seeking the release of the two chiefs for instant justice.
Due to the tension, Adeiso District Police command called on the Divisional Command for reinforcement to contain the situation.
A search in the Jeep SUV which belongs to Akwansrahene, Baffour Sarpong, contained one AK 47 assault rifle with 3 magazines and 7 Pump-action cartilages.
The five (5 ) suspects including the two chiefs were whisked to Asamankese Divisional Headquarters by the reinforcement team where they were granted Police enquiry bail.
The Public Relations Officer of the Eastern Regional Police Command, DSP Ebenezer Tetteh confirmed the incident.
He said the Regional Police Command has dispatched a team to the troubled area to help resolve the matter to restore calm.
Okyeman Environmental Protection Taskforce was formed over a decade ago to fight against illegal mining, illegal sand winning and illegal chainsawing.
Source: starrfm.com.gh