Gov't to provide 180,000 jobs for graduates, non-graduates – Bawumia
The Vice President Dr Mahamudu Bawumia says the government will offer Ghanaian graduates and non-graduates 180,000 jobs.
Dr Bawumia disclosed this, Bawku during a one day visit to the Muslim community in the Upper East Region to commemorate the month of Ramada.
According to him, the initiative is to help reduce the rate of unemployment and improve the living standards of the youth.
Dr Bawumia urged graduate youth to take advantage of the 100,00 jobs offered in various sectors of the economy under the Nations Builders Corps  ( NABCO)  adding that, the Youth Employment Agency will also recruit 80,000 youth this year.
He stated that under the NABCO recruitment every constituency shall be entitled to employ  350 graduates.
Dr. Bawumia also hinted that government will soon commence the construction of dams under the One Village One Dam policy in the three regions of the North since the contracts have being awarded for execution.
He indicated that the Zongo development authority board will be inaugurated on Monday 11th June 2018 to execute its mandate.
Akufo-Addo has achieved more in 18 months than previous governments
Dr. Mahamudu Bawumia also said New Patriotic Party's 18 months government under president Akufo-Addo has achieved a lot more than previous government achieved within an eight-year period.
"He has done so much in 18 months that many other governments were not able to do in 8 years," Bawumia added.
The Vice President noted that President Akufo-Addo is a man of his words and has proved his critics wrong by implementing major campaign promises within a short time despite taking over a troubled Ghanaian economy.
"The President assumed office with a very difficult economy. He has been at work for the past 18 months now. By the grace of the Almighty God, he has been able to do a lot of things he promised this country he was going to do."
"Many people thought what he promised was not possible. He has been able to do many of the things within 18 months. He was able to relieve a lot of our farmers by introducing the Free Senior High School [Policy] which has brought tremendous relief to many people who have their children in senior high schools."
The Vice President also mentioned the restoration of the nurses and teacher trainees' allowances and reduction of electricity tariff as part of the things the Akufo-Addo government has been able to do.
 "He was able to reintroduce the Teacher Trainee Allowance, which many thought was not possible. He has been able to reintroduce the Nursing Trainee Allowance. He has been able to reduce the price of electricity," Dr Bawumia added.
Source: citinewsroom.com

Former Ghanaian dance champion Alex Ofori passes on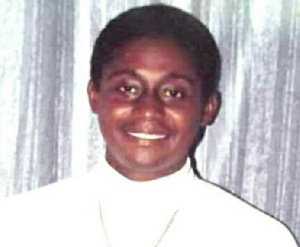 •The late Alex Ofori was a choreographer and a fashion model
• He became much popular after winning the Ghana National Dance competition in 1988
• The late dancer has been eulogized by popular Ghanaian media personality, Mr. Kwasi Kyei Darkwa
Former Ghanaian National Dance Champion, Alex Ofori, has reportedly passed on.
The late Alex Ofori who shot to fame after winning the Ghana National Dance competition in 1988, has worked with the likes of Slim Buster, who won the championship in 1987, Ebenezer Ako Nai who also won in 1987, Terry Ofosu Bright, aka Sir Robot who won in 1989 and Reggie Rockstone among others.
Announcing his demise on Facebook on June 16, 2021, veteran broadcaster Kwesi Kyei Darkwa (KKD) stated that the dance champion brought so much excitement and joy to Ghanaians whenever he got on a stage or dance floor.
He also eulogized him paving the way for new dance talents the country currently possesses.
"Rest in peace ALEX OFORI, Former National Dance Champion- Great Embassy Double Do, Dancer-Choreographer & Fashion Model. You brought so much excitement & joy to our motherland wherever you got on a stage or dance floor. With the likes of World Dance Champion Adjetey Sowah, unique breakdancer Reginald Osei aka Reggie Rockstone, Show dancers Firekiller, Como Basto, Carlos Alberto, Tee Pee & many enthusiastic young talents of the 80s & 90s, you helped turn what was your passion into a mainstay of live shows & television entertainment. Today, those talents you shared with the world just for fun, your labor of love has become a popular profession."
"You & your colleagues paved the way for the talent we enjoy in dance choreography at national events & in numerous music videos. Life: How unpredictable you are. & how fragile we are," he wrote on Facebook.
It can be recalled that the late Alex Ofori once represented Ghana at the World Dance Championship series at the London Hippodrome.
Read the post below:
Source: www.ghanaweb.com
VIDEO: Kennedy Agyapong celebrates 61st birthday in Dubai with his 16 daughters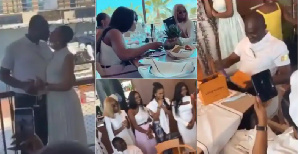 • The Assin Central MP was swamped by his beautiful daughters at his 61st birthday party in Dubai
• Kennedy Agyapong turned 61 on June 16, 2021
• The lawmaker received and unwrapped some expensive gifts from his children
Assin Central MP, Kennedy Ohene Agyapong, joined his daughters in Dubai to celebrate his 61st birthday on June 16, 2021.
In a video making rounds on social media, the outspoken lawmaker was captured in a plush restaurant, swamped by his beautiful daughters and wife.
With the exception of Arnell, who is alleged to have been 'disowned' by Mr. Agyapong, the rest of his 16 beautiful daughters were seen seated at a dinner table with their father having a nice time.
Beaming with smiles, Mr. Agyapong one-by-one unwrapped the gifts presented to him by his children.
The all-white birthday party was climaxed with a kiss from his wife.
Watch the video below:
Source: www.ghanaweb.com
One shot as sand winners clash with Okyeman taskforce at Adeiso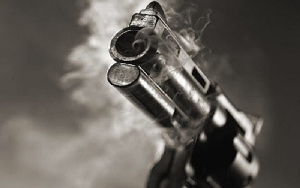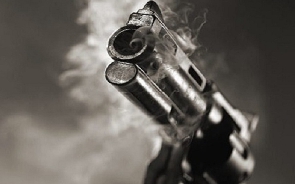 One person has been shot in a clash between the Okyeman Environmental Protection task force and sand winners at Adeiso in the West Akyem Municipality in the Eastern region.
The task force stormed the Tank Akuraa community near Adeiso, arrested and handcuffed one Osae Kwame, a sand winner and threw him into a Nissan Pick Up but were pursued by the youth who rescued him.
Later the taskforce members attacked Summertide sand winning Company site at Obeng Yaw village, also near Adeiso, amidst the firing of guns and arrested five workers and shot one other.
Armed police responded to the distress calls about the incidents but the Taskforce failed to stop when signalled by Police.
They were given a hot chase but to no avail.
Information spread through the Communities leading to the youth mounting roadblocks and attacked the task force.
Sensing danger Okyeman Mponuahene, Barima Twum Tabriade and Okyeman Akwansrahene went to the Adeiso police station to seek refuge in a Jeep Patriot SUV with registration number GS9835-19 which had three tyres deflated.
The angry youth and sand winners massed up at the Police station seeking the release of the two chiefs for instant justice.
Due to the tension, Adeiso District Police command called on the Divisional Command for reinforcement to contain the situation.
A search in the Jeep SUV which belongs to Akwansrahene, Baffour Sarpong, contained one AK 47 assault rifle with 3 magazines and 7 Pump-action cartilages.
The five (5 ) suspects including the two chiefs were whisked to Asamankese Divisional Headquarters by the reinforcement team where they were granted Police enquiry bail.
The Public Relations Officer of the Eastern Regional Police Command, DSP Ebenezer Tetteh confirmed the incident.
He said the Regional Police Command has dispatched a team to the troubled area to help resolve the matter to restore calm.
Okyeman Environmental Protection Taskforce was formed over a decade ago to fight against illegal mining, illegal sand winning and illegal chainsawing.
Source: starrfm.com.gh