120 students displaced, 4-bedroom house razed down in 2 separate fire outbreaks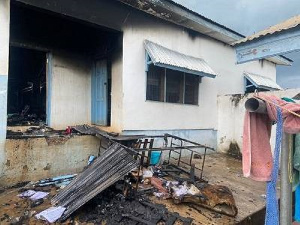 At least 120 students of the Anhwiaso Nursing Training College in the Western Region have been displaced with property worth hundreds of Ghana cedi destroyed when fire gutted the college, Monday evening.
Three out of the eight rooms used as facilities to keep chop boxes and personal effects of the students, including books, were consumed by fire, before the arrival of firefighters from the Bibiani Fire Station, who responded to the distress call, at about 11:19 pm on Monday.
There were no casualties reported.
Briefing the Ghanaian Times in Accra, the Head of Public Relations of the Ghana National Fire Service (GNFS), Assistant Chief Fire Officer (ACFO) Grade One Timothy Osafo-Affum, said the Service received a call, indicating a fire outbreak at the college, and firefighters from Bibiani Fire Station, was dispatched to the scene.
He said the firefighters brought the situation under control at 1:27 am.
"Parts of the affected block caved in due to the heavy and intense fire, three additional rooms and their contents on the affected block were partially damaged by the blaze, while the crew succeeded in salvaging two rooms and their contents as well as an adjoining block from the fire ruins," ACFO Osafo-Affum said.
In a related development, ACFO Osafo-Affum also said, a four-bedroom house with detached boys' quarters, at Tantra Hill, in Accra, was gutted by fire.
He said personnel of the GNFS received a call at 7:57 am and arrived at the scene at 8:15am, and quenched the fire at 9:24, and salvaged two detached boys' quarters.
ACFO Osafo-Affum said the GNFS was investigating the causes of both fires.
Source: ghanaiantimes.com.gh